ॐ श्री गुरुभ्यो नमः ॐ श्री शिवानन्दाय नमः ॐ श्री चिदानन्दाय नमः ॐ श्री दुर्गायै नमः
Source of all Images in this Blog-post : Google Images : 'Google Image Search' will reveal the multiple sources of every single image shared in this Blog. For more details, kindly see 'Disclaimer'
Karwa Chauth is a festival celebrated by Hindu women from the Indian Subcontinent on the fourth day after Purnima ( Full Moon) in the Hindu month of Kartika.
Like many Hindu festivals, Karwa Chauth is based on the Lunisolar Calendar which accounts for all astronomical positions, especially positions of the moon which is used as a marker to calculate important dates.
Karva Chauth is celebrated mainly in the northern states of India on the fourth day (Chauth) of the Karthik month in the Hindu (lunar) calendar. On this day, married women pray for the well-being and long life of their husbands by fasting from dawn to the time of moonrise.
The day is celebrated with a lot of fervor, with women dressing up in elaborate attires and adorning intricate mehndi on their hands.
This festival is glorified and also widely observed by the Hindus as well as Sikh. Karva means clay pot while Chauth means fourth.
To keep up with the changing times, nowadays even some husbands observe fast for their wives' happiness and well being. Various folklores suggest that the festival's origin can be traced back to the time of Mahabharata.
On this particular day, various items such as Karwa, which is an earthen pot with a spout is collected and worshiped. It is then offered to Goddess Parvati and Lord Siva.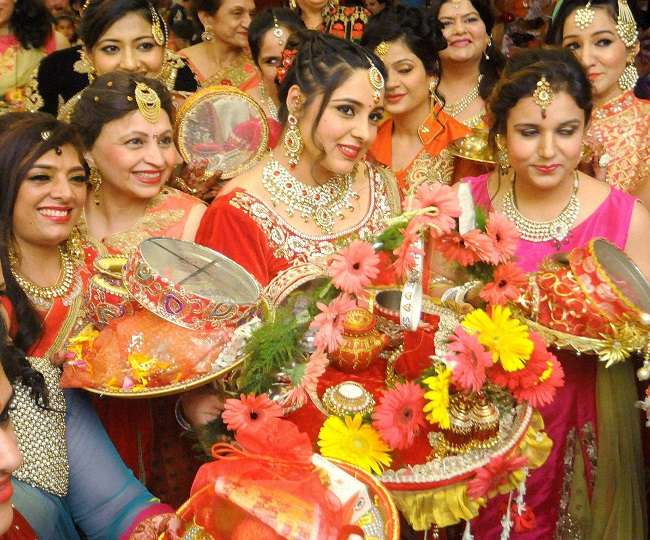 To comply by this fast no water or food can be consumed after the sun has risen. It is broken only after seeing the moon and after all the rituals of day have been performed. Once they see the moon, these women break their fast after they have offered water to the moon.
The Karwa Chauth fast is traditionally celebrated in the Indian states of Delhi, Haryana, Rajasthan, Punjab, Jammu and Kashmir, Uttar Pradesh, Madhya Pradesh and Himachal Pradesh. It is celebrated as Atla Tadde in Andhra Pradesh.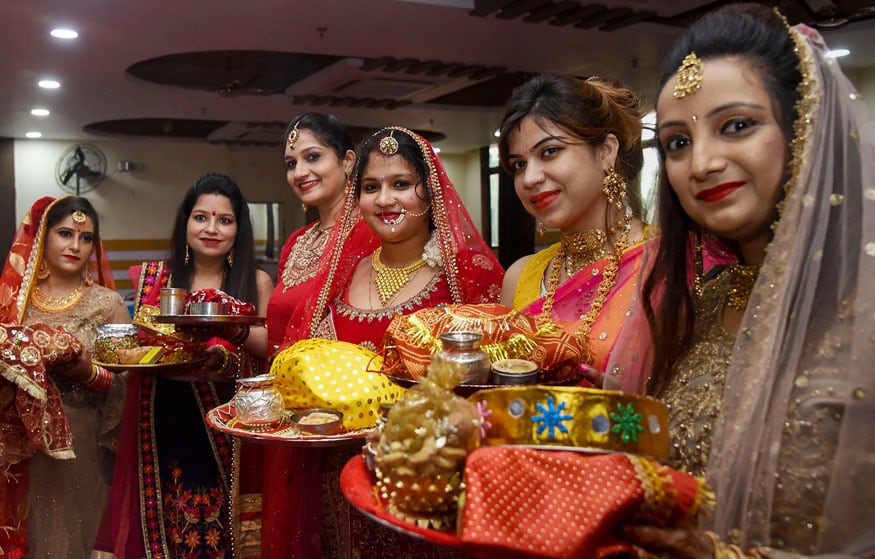 The fasting women collectively sit in a circle, while doing Karwa Chauth Puja, singing song while performing the Feris (passing their Thalis around in circle). After performing Karwa Chauth Puja, they offer water towards Sun.
Women begin preparing for Karwa Chauth a few days in advance, by buying adornments (Shringar), jewellery, and Puja items, such as the Karwa lamps, Matthi, henna and the decorated Puja Thali (Plate).
In the evening Karva Chauth, a community women-only ceremony is held. Participants dress in fine clothing and wear jewellery and henna, and in some regions dress in the complete finery of their wedding dresses. The fasters sit in a circle with their Puja Thalis.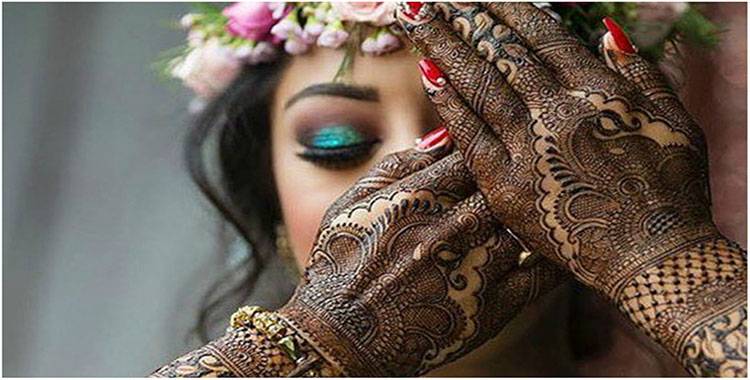 Depending on region and community, a version of the story of Karwa Chauth is narrated, with regular pauses. The storyteller is usually an older woman or a priest, if one is present.
In the pauses, the Karwa Chauth Puja song is sung collectively and the singers perform the Feris (passing their Thalis around in circle).
Thanks to India's Bollywood Film Industry, Karwa Chauth isn't limited to be a North Indian or Punjabi festival anymore. It is now highly glamorized and is a widely popular festival in India.
Some married women and also the 'brides-to-be' in other regions want to look their best on this day when they fast for the well-being of their husbands.
The evening is the time when the drudgery of fast starts wearing off and the enthusiasm and expectation of golden moments show on their faces.
Traditional Tales :
There are many legends associated with the fasting festival of Karwa Chauth. In some tellings, the tales are interlinked, with one acting as a frame story for another. Read more on Wikipedia Page