ॐ श्री गुरुभ्यो नमः ॐ श्री शिवानन्दाय नमः ॐ श्री चिदानन्दाय नमः ॐ श्री दुर्गायै नमः
Source of all Images in this Blog-post : Google Images : 'Google Image Search' will reveal the multiple sources of every single image shared in this Blog. For more details, kindly see 'Disclaimer'
Delhi Crafts Council's Covid-19 Atisans Help Fund
Pahari denotes 'hilly or mountainous' in origin. Pahari Schools of Painting includes towns, such as Basohli, Guler, Kangra, Kullu, Chamba, Mankot, Nurpur, Mandi, Bilaspur, Jammu and others in the hills of western
Himalayas, which emerged as centres of painting from seventeenth to nineteenth century.
Beginning at Basohli with a coarsely flamboyant style, it blossomed into the most exquisite and sophisticated style of Indian painting known as the Kangra School, through the Guler or pre-Kangra phase.

Unlike the distinguishing stylistic features of Mughal, Deccani and Rajasthani Schools, Pahari paintings demonstrate challenges in their territorial classification.

Though all the above centres crafted precisely individualistic characteristics in painting (through the depiction of nature, architecture, figural types, facial features, costumes, preference for particular colours and such other
things), they do not develop as independent schools with distinctive styles.
Paucity of dated material, colophons and inscriptions also prevent informed categorisation.
The emergence of the Pahari School remains unclear, though scholars have
cautiously proposed theories concerning its beginning and influences.
It is widely accepted that Mughal and Rajasthani styles of paintings
were known in the hills probably through examples of Provincial Mughal style and family relationships of hill Rajas with the royal courts of Rajasthan.
However, the flamboyantly bold Basohli-like style is, generally, understood to
be the earliest prevailing pictorial language.
This argument is also true for Rajasthani schools as attribution merely by regions creates vagueness and several disparities remain unexplained. Hence, if a family of artists is considered as the style bearer, justification of multiple strands of a style can be accommodated within the same region and school.

Scholars agree that in the early eighteenth century, the style of the Seu family and others conformed to the Basohli idiom.
However, from middle of the eighteenth century, the style transformed through a pre-Kangra phase, maturing into the Kangra style.
This abrupt transformation in style and beginning of experimentation, which gave rise to varied stylistic idioms related to different Pahari centres, is largely ascribed to responses by various artist families and paintings (especially, the Mughal style) that were introduced in the Pahari kingdoms.
This sudden arrival of paintings, which might have been introduced through rulers, artists, traders or any such agency or event, impacted local artists and profoundly influenced their painting language.
Most scholars, now, dispute the earlier hypothesis that the sudden change was caused and initiated by the migration of artists from the Mughal atelier.

For Goswamy, it was the naturalism in these paintings that appealed to the sensibilities of Pahari artists.

Compositions, worked out from a relative point of view, show some paintings with decorated margins. Themes that included recording the daily routine or important occasions from the lives of kings, creation of new prototype for female form and an idealised face, are all associated with this newly
emerging style that gradually matures to the Kangra phase.

Basohli School
The first and most dramatic example of work from the hill states is from Basohli. From 1678 to 1695, Kirpal Pal, an enlightened prince, ruled the state. Under him, Basohli developed a distinctive and magnificent style.
It is characterised by a strong use of primary colours and warm yellows filling the background and horizon, stylised treatment of vegetation and raised white paint for imitating the representation of pearls in ornaments.
However, the most significant characteristic of Basohli painting is the use of small, shiny green particles of beetle wings to delineate jewellery and simulate the effect of emeralds.
In their vibrant palette and elegance, they share the aesthetics of the Chaurpanchashika group of paintings of Western India.

The most popular theme of Basohli painters was the Rasamanjari of Bhanu Datta. In 1694–95, Devida, a tarkhan (carpenter–painter), did a magnificent series for his patron Kirpal Pal.
Bhagvata Purana and Ragamala were other popular themes. Artists also painted portraits of local kings
with their consorts, courtiers, astrologers, mendicants, courtesans and others.
While artist ateliers from Basohli, gradually, spread to other hill states, such as Chamba and Kullu, giving rise to local variations of the Basohli kalam.

A new style of painting came in vogue during 1690s to 1730s, which was referred to as the Guler–Kangra phase.

Artists during this period indulged in experimentation and improvisations that finally resulted and moulded into the Kangra style.
Hence, originating in Basohli, the style gradually spread to other hill states of Mankot, Nurpur, Kullu, Mandi, Bilaspur, Chamba, Guler and Kangra.

The Sanskrit epic, Ramayana, was one of the favourite texts of the hill artists at Basohli, as well as, Kullu. This set derives its name from 'Shangri', the place of residence of a branch of the Kullu royal family, patrons and formerly possessors of this set. These works of Kullu artists were influenced in varying degrees by the styles of Basohli and Bilaspur.

Rama learns of his exile and prepares to leave Ayodhya along with his wife Sita and brother Lakshmana. Maintaining equanimity of mind, Rama indulges in his last acts of giving away his possessions.
At the request of Rama, his brother piles up his belongings and the crowd begins to gather to receive the largesse of their beloved Rama—jewellery,
sacrificial vessels, thousand cows and other treasures.
Guler School
The first quarter of the eighteenth century saw a complete
transformation in the Basohli style, initiating the
Guler–Kangra phase.
This phase first appeared in Guler, a
high-ranking branch of the Kangra royal family, under the
patronage of Raja Govardhan Chand (1744–1773).
Guler
artist Pandit Seu with his sons Manak and Nainsukh are
attributed with changing the course of painting around
1730–40 to a new style, usually, referred to as the pre–Kangra
or Guler–Kangra kalam.
This style is more refined, subdued
and elegant compared to the bold vitality of the Basohli style.

Though initiated by Manak, also called Manaku, his brother
Nainsukh, who became the court painter of Raja Balwant
Singh of Jasrota, is responsible for shaping the Guler School
emphatically.
The most matured version of this style entered
Kangra during the 1780s, thus, developing into the Kangra
School while the offshoots of Basohli continued in Chamba
and Kullu, India.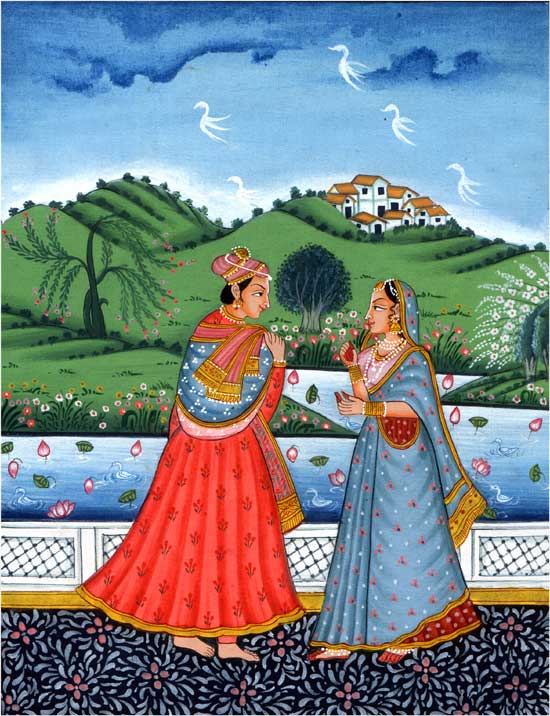 Sons and grandsons of Manak and Nainsukh worked
at many other centres and are responsible for the finest
examples of Pahari paintings.

Guler appears to have a long tradition of paintings
amongst all Pahari schools. There is evidence that artists
were working in Haripur–Guler ever since the reign of Dalip
Singh (1695–1743) as many of his and his son Bishan Singh's
portraits, dating back to earlier than 1730s, i.e., before the
beginning of the Guler–Kangra phase can be found.
Bishan Singh died during the lifetime of his father Dalip Singh. So, his younger brother Govardhan Chand ascended to the throne that witnessed a change in painting style.

Manak's most outstanding work is a set of Gita Govinda
painted in 1730 at Guler, retaining some of the elements of
the Basohli style, most strikingly the lavish use of beetle's
wing casings.

Nainsukh appears to have left his hometown in Guler and
moved to Jasrota. He is believed to have initially worked for
Mian Zoravar Singh, whose son and successor Balwant Singh
of Jasrota was to become his greatest patron.
Nainsukh's celebrated pictures of Balwant Singh are unique in the kind
of visual record they offer of the patron's life. Balwant Singh
is portrayed engaged in various activities — performing puja,
surveying a building site, sitting in a camp wrapped in a quilt
because of the cold weather, and so on.
The artist gratified his patron's obsession by painting him on every possible
occasion. Nainsukh's genius was for individual portraiture
that became a salient feature of the later Pahari style.
His palette comprised delicate pastel shades with daring expanses of white or grey.

Manaku, too, did numerous portraits of his enthusiastic
patron Raja Govardhan Chand and his family. Prakash
Chand, successor of Govardhan Chand, shared his father's
passion for art and had sons of Manaku and Nainsukh,
Khushala, Fattu and Gaudhu as artists in his court.
Kangra School
Painting in the Kangra region blossomed under the patronage
of a remarkable ruler, Raja Sansar Chand (1775–1823).
It
is believed that when Prakash Chand of Guler came under
grave financial crisis and could no longer maintain his atelier,
his master artist, Manaku, and his sons took service under
Sansar Chand of Kangra.

Sansar Chand ascended to the throne at the tender age
of 10 years after the kingdom had been restored to its earlier
glory by his grandfather Ghamand Chand.
They belonged to the Katoch dynasty of rulers, who had been ruling the Kangra region for a long time until Jahangir conquered their territory
in the seventeenth century and made them his vassals.
After the decline of the Mughal power, Raja Ghamand Chand
recovered most of the territory and founded his capital town
of Tira Sujanpur on the banks of river Beas and constructed
fine monuments. He also maintained an atelier of artists.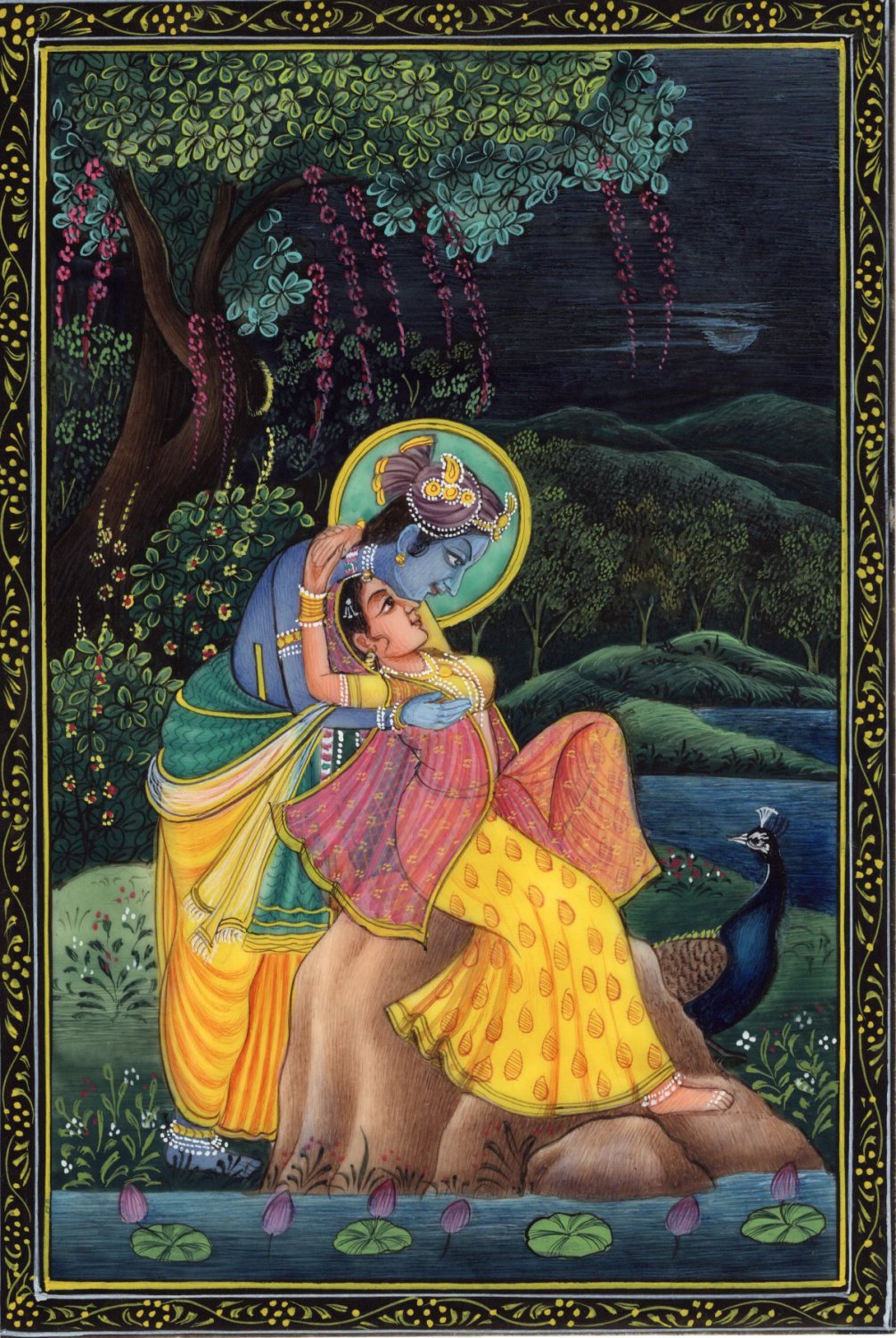 Raja Sansar Chand established supremacy of Kangra
over all surrounding hill states. Tira Sujanpur emerged as
the most prolific centre of painting under his patronage.
An earlier phase of Kangra kalam paintings is witnessed in
Alampur and the most matured paintings were painted at
Nadaun, where Sansar Chand shifted later in his life. All
these centres were on the banks of river Beas. Alampur
along with river Beas can be recognised in some paintings.
Less number of paintings was done in Kangra as it remained
under the Mughals till 1786, and later, the Sikhs.

Sansar Chand's son Aniruddha Chand (1823–1831),
too, was a generous patron and is often seen painted with
his courtiers.

The Kangra style is by far the most poetic and lyrical
of Indian styles marked with serene beauty and delicacy
of execution. Characteristic features of the Kangra style
are delicacy of line, brilliance of colour and minuteness of
decorative details. Distinctive is the delineation of the female
face, with straight nose in line with the forehead, which came
in vogue around the 1790s is the most distinctive feature of
this style.

Most popular themes that were painted were the
Bhagvata Purana, Gita Govinda, Nala Damayanti, Bihari
Satsai, Ragamala and Baramasa. Many other
paintings comprise a pictorial record of Sansar
Chand and his court. He is shown sitting by
the riverside, listening to music, watching
dancers, presiding over festivals, practising
tent pegging and archery, drilling troops, and
so on and forth. Fattu, Purkhu and Khushala
are important painters of the Kangra style.
During Sansar Chand's reign, the
production of Kangra School was far greater
than any other hill state. He exercised wide
political power and was able to support a
large studio with artists from Guler and other
areas. The Kangra style soon spread from Tira
Sujanpur to Garhwal in the east and Kashmir in
the west. Painting activity was severely affected
around 1805 when the Gurkhas besieged the
Kangra fort and Sansar Chand had to flee to
his hill palace at Tira Sujanpur. In 1809, with
Krishna playing Holi with
gopis, Kangra, 1800, National
Museum, New Delhi, India
1_5.Pahari Painting.indd 75 01 Sep 2020 02:32:08 PM
2021–22
76 An Introduction to Indian Art—Part II
the help of Ranjit Singh, the Gurkhas were driven away.
Though Sansar Chand continued to maintain his atelier of
artists, the work no longer paralleled masterpieces of the
period 1785–1805.
This series of Bhagvata Purana paintings is one of the
greatest achievements of Kangra artists. It is remarkable for
its effortless naturalism, deft and vivid rendering of figures in
unusual poses that crisply portray dramatic scenes. The
principal master is believed to have been a descendent of
Nainsukh, commanding much of his skill.
With minds engrossed in thoughts of Krishna, the gopis
recall and enact his various lilas or feats. Some of them
being—the killing of Putana, liberation of Yamala–Arjun
after Krishna was tied to a mortar by Yashoda, lifting of
Mount Govardhan and rescuing the inhabitants of Braj from
the heavy downpour and wrath of Indra, subduing of serpent
Kaliya, and the intoxicating call and allure of Krishna's
flute. The gopis take on different roles and emulate his
divine sports.
The Kangra School came to fore in the 1780s while the
offshoots of the Basohli style emerged and continued in
centres such as Chamba, Kullu, Nurpur, Mankot, Jasrota,
Mandi, Bilaspur, Jammu and others with some of their
specific characteristics. In Kashmir (1846–1885), the Kangra
style initiated a local school of Hindu book illumination. The
Sikhs employed other Kangra painters eventually.

There is a broad classification of three styles—Basohli,
Guler and Kangra, and scholars may have variant terms for
the same. However, these are indicative centres from where
the style travels elsewhere. Hence, in Jasrota, as one observes
the Guler style, it becomes categorised under the Guler
School with Jasrota as one of its centres. Briefly mentioning
the aspects of the other centres, one finds portraits of the
rulers of Chamba in the seventeenth and early eighteenth
century in the Basohli style.
Kullu emerged with a distinctive style, where figures
had a prominent chin and wide open eyes, and lavish use
of grey and terracotta red colours in the background was
made. Shangri Ramayana is a well-known set painted in the
Kullu Valley in the last quarter of the seventeenth century.
Paintings of this set vary from each other in style, and, thus it
is believed that these were painted by different sets of artists.
It is believed that when the Basohli style had outgrown itself
and matured into the Kangra style, Nurpur artists retained
the vibrant colours of Basohli with the dainty figure types
of Kangra.

Due to marital relations between Basohli and Mankot, few
artists from Basohli seem to have shifted to Mankot, thereby,
developing a similar school of painting. While Jasrota had
an indulgent patron in Balwant Singh and the school is
well-known through his numerous portraits painted by his
court artist, Nainsukh, who led the earlier simple Basohli
style to new sophistication. This style of Nainsukh is also
referred to as the Guler–Kangra style.

Rulers of Mandi were ardent worshippers of Vishnu and
Shiva. Hence, apart from the Krishna Lila themes, Shaivite
subjects were also painted. An artist named Molaram is
associated with the Garhwal School. Several signed paintings
by him have been discovered. This school was influenced by
the Kangra style of Sansar Chand phase.
Delhi Crafts Council's Covid-19 Atisans Help Fund