ॐ श्री गुरुभ्यो नमः ॐ श्री शिवानन्दाय नमः ॐ श्री चिदानन्दाय नमः ॐ श्री दुर्गायै नमः
Source of all Images in this Blog-post : Google Images : 'Google Image Search' will reveal the multiple sources of every single image shared in this Blog. For more details, kindly see 'Disclaimer'
Official Website of Garvi Gurjari Emporium
From Gurjari Managing Director's Desk :
"Gujarat State Handloom & Handicrafts Development Corporation Ltd. is a Government of Gujarat Undertaking which markets its vivid handloom and handicraft products under the credible brand name of 'Garvi-Gurjari'.
But that is only the visible side of this eminent entity. It works with a mission to explore, develop and revive Gujarat's exquisite crafts.
Gurjari's backbone is the vivacious & vibrant group of thousands of artisans and weavers, who are supported by us for livelihood opportunities and they also act as the ardent partners for survival of the traditional renowned crafts.
You will be extending great support and encouragement to these artisans & weavers by purchasing Garvi-Gurjari products."
Gujarat State Handloom & Handicrafts Development Corporation Ltd., (GSHHDC), an undertaking of Government of Gujarat was established in 1973 with the main objective of identification, revival, development of handicrafts and handlooms of Gujarat.
With the advent of GSHHDC, it has been possible to develop handloom and handicraft products and a continuous process of providing design input to make the products having more utilitarian value and suitable for contemporary life style without altering the traditional values of craftsmanship.
Thousands of artisans/weavers, who are inhabited in rural, urban and even remote area of Gujarat, are covered under its various schemes of training and designs development.
Their products have received acclamation not only across the country but in overseas countries too.
Gurjari's sincere efforts have helped in creating sustainable employment opportunities and income generation to the artisans working in the area of handloom and handicrafts, which is a non farming sector of our Indian economy.
With a view that ample marketing opportunities are available to these artisans/weavers, the Corporation markets their products through its GARVI-GURJARI chain of emporia across the country and supply to exporters, which has created its market in overseas countries.
Gujarat has an array a rich variety of crafts. Its embroidery, bead work, wood crafts, printed and woven clothes, pottery and tribal art are expression of the folklore and festivals.
The exclusive range of these works of craftsmen and woven imbued with the social and cultural hue of the region from where they have sprung are original in nature and craftsmanship.
Today far moved from the hut or the village of the craftsman, pieces of handicrafts come to adorn the houses of the elite, the five star hotels both at home and abroad.
Crafts of Gujarat :
Here are some of the crafts Gujarat is well known for :
Bandhani ( Tie & Die ) :
Google Shopping : Buy Bandhani Sarees Online
Tie and dyed fabric is known as Bandhani in Gujarat.
Designs are formed by a combination of dots. The designs are first block-printed on the fabric surface with geru (natural red clay) in dotted lines. All the dots pinched and then tightly wound with fine continuous thread. The tied fabric dyed with different colours as per the design.
Google Shopping : Buy Bandhani Dupattaas Online
The process is repeated as per the colours required in the design. The tying process is always done by women.
Google Shopping : buy Bandhani Dress Material Online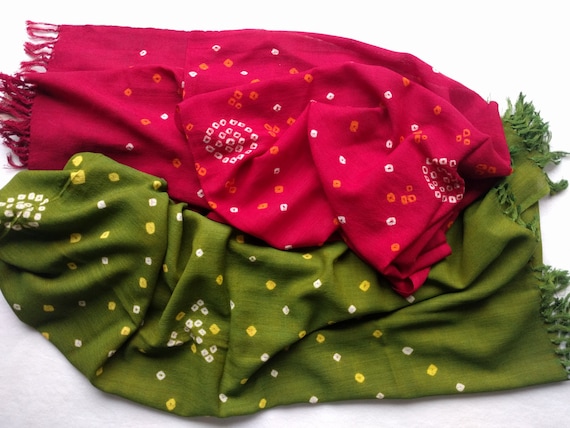 Buy Bandhani Sarees Online on Amazon India
Some Popular designs are sikhari bhat (jungle scene), ambaa dal (mango orchard), chakali Popat (sparrow, parrot) and raas mandal (stick dancing).
Buy Bandhani Dupattas Online on Amazon India
The most expressive designs are seen in the Gharchola of the Lohana community is bhavan bhat (motifs of elephant, doll, flowers and many more in checks).
Buy Bandhani Dress Material Online on Amazon India
Khaat/Zardosi work
The shimmering springs of thin gold, silver or copper, stitched on the fabric to designs is what Khaat work or zardosi is all about!
The thread is held with a finger at the reverse of the fabric and the aari, a needle with a sharp point, is held on the top.
Materials like sequins, gota, beads, nakshi, dabka or shinny stones are used by craftsman to add a royal affect to it. Khaat work is a time consuming affaire and requires a lot of patience and skill making it a costlier art.
Hand Block Printing Ajrakh :
Amazon India Shopping : Buy Ajrakh Sarees, Dupattas & Dress Material Online
Hand Black Printing of textiles is an age-old craft of gujarat. The craftsman here are specialized in using wooden blocks to handprint intricate patterns on to the yardage.
The Ajrakh printing technique is practiced only in Dhamadka village. Kachchh District is the main centre the fine art of resist-printing and mordant-dyeing.
Google Shopping : Buy Ajrakh Sarees, Dupattas & Dress Material Online
Textiles are treated with vegetable and mineral colours. The process is very long and laborious and the fabric goes through the washing cycle about eight to IO times. It is dyed in the indigo pit and treated with lime paste.
A pattern of geometric motifs is printed, which requires at least 20 blocks and takes up to three weeks to complete. The finer the lines, the more intricate the design. The Khatri community is the artisans of ajrakh-printed fabric.
Ajrakh cloth has multipurpose uses. It is used extensively by the man among the Muslims, Jats, Khans, Pathans and by the Meghwal communities, as turbans. Woman wear it as a veil cloth and it is also used as bed sheets.
Double Ikat Patola :
Google Shopping : Buy Patan Patola Sarees Online
Double Ikat is created by tying both the warp and weft prior to weaving. More specifically, employs a variety of tie-dye resist techniques. This form of weaving requires the most skill for precise patterns to be woven and is considered the premiere form of ikat.
Google Shopping : Buy Patan Patola Dupattas Online
The amount of labor and skill required also make it most expensive one these were typically form Gujarat and used as prestigious cloths to be worn on auspicious days the Salvi family st Patan has kept alive the double ikat sheer poetry of the intermingling warp and weft of silken music that is the Patola of covetous desire.
Mashroo / Mashru Silk :
Google Shopping ; Buy Mashru Silk Fabric Online
Mashru is an old and venerable hand woven textile craft form. Mashru is the most simple yet striking of Indian Fabrics. Mashru has a specialized style of weaving developed keeping in mind the religious sentiments of its clients.
Amazon India Shopping : Buy Mashru Silk Fabric Online
The uniqueness of this fabric is that it has a silk warp with a cotton weft and traditional designs use a tie and dyed yarn generating a vibrant striped patterning on the fabric.
Due to the satin weave technique, threads of flowing silk literally float on the cotton weft; almost akin to a preening beauteous silk lying unfurled over a bed of cotton.
Amazon India Shopping : Buy Mashru Silk Fabric Online
Mashru uses striped linear patterns of vibrantly bright colors ranging from greens, reds and a pre-dominance of golden yellows. Vankar communities are known to be the creators of this craft forms.
Tangaliya Weaving :
Tangaliya is a weaving art native to the Dangashiya community of Surendranagar, Gujarat.
Google Shopping : Buy Tangaliya Sarees, Dupattas, Dress Materials & Artefacts Online
The Dangashiya community is a mixed community of weavers and shepherds (Bharwad). The weavers made blankets and shawls out of sheep and goat wool for the shepherds to wear. They developed a special technique of weaving, also known as Dana work, only known to the Dangashiya community.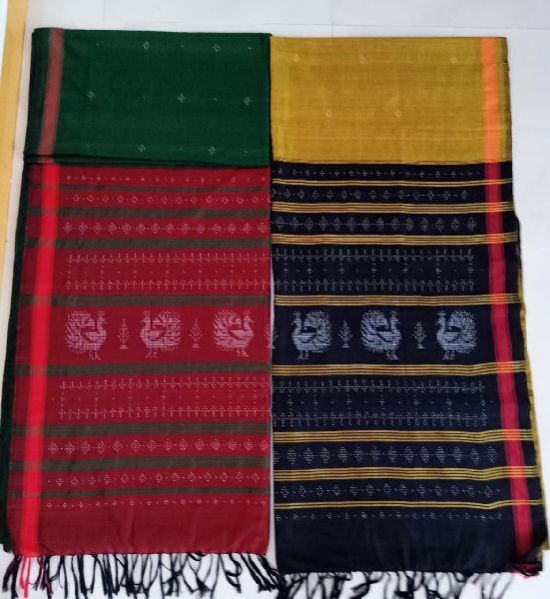 Tiny dots of extra weft are twisted around a number of warp threads, giving an effect of bead embroidery to the fabric. This intricate process of twisting extra weft while weaving creates beautiful geometrical patterns and forms.
Bhujodi Shawl :
Google Shopping : Buy Bhujodi Stole Online
The Shawls made of acrylic wool are dyed, have one solid bright colour uniformly and woven with traditional Kutchi motifs and is processed on handlooms largely in Bhujodi, a village in Kutch besides other villages of Gambudi, Manukna, Bundra and Tukma.
Google Shopping : Buy Handwoven Kutch Shawl Online
Kutchi Handwoven Shawl : Buy Online on Google Shopping
There are currently 1,200 weavers who work in 210 villages of Kutch, 800-900 practice the craft full time. Around 2,400 women are engaged in preparatory and finishing processes.
The Kutchi shawls are sold in domestic markets and are exported as well to countries like US and Europe.
Sujani / Sujini Weaving :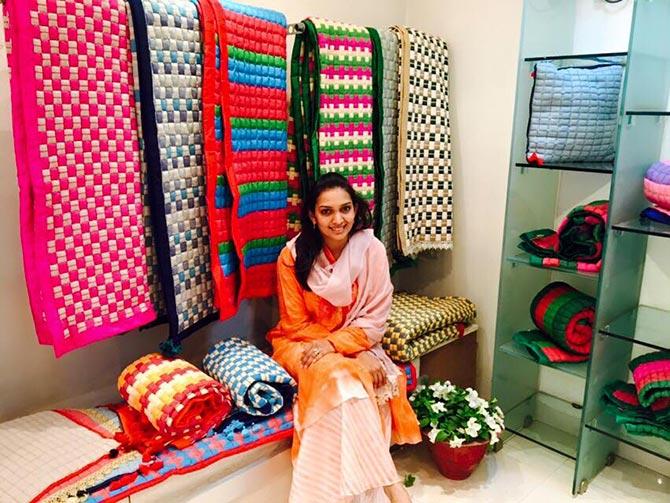 A traditional quilt Sujini is made with layers of clothes mainly in the rural areas. Lose cotton fibres are used for the inner stuffing. The Sujini depicts village and religious scenes such as bride in palanquin. peacocks dancing, boy flying kite, etc.
Bharuch is the only craft centre of Sujani weaving in Gujarat. In this two weavers sit at either ends and operate the loom. A shuttle of two colours is put in the warp threads with the aim of turning the warp and the weft. During weaving, spun cotton is put and woven in squares.
Vegetable Printing :
In traditional process of printing with vegetable/natural dyes, the cloth is not actually printed with dyes in case of synthetic dyes, but the cloth previously created with harda, is first printed with one or more than one mordant and then dyed with vegetable/natural dye to get various shades as per the mordants used.
Soof Embroidery :
It is counted thread styles using only one stitch also called soof, meaning 'neat and clean'. The designs are highly stylized. The surface satin stitch is worked from the back of the fabric by counting the weave of the fabric and inserting the needle of regular and designated intervals.
The designs for Soof embroidery cannot be pre drawn and are left to the discretion of the individual craftswomen, who need a good grasp of geometry to work out their designs.
Pakko Embroidery :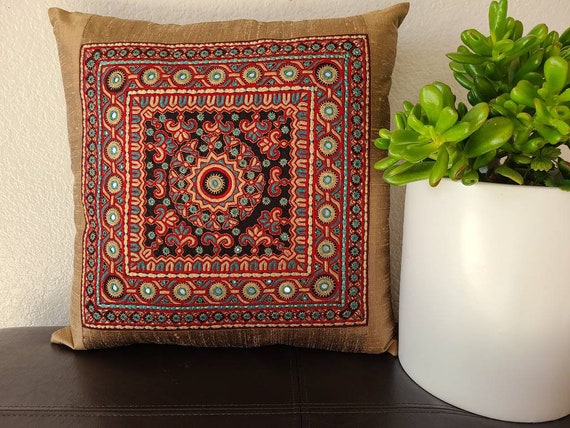 Pakko embroidery is done by the Sodha, Rajput & Megwar communities. Pakko literally means solid. The designs and motifs are very similar to Aahir, but slightly more geometric. The outline is done with a square chain stitch, which gives a raised appearance.
Mirror are used frequently. Like Aahir, the original design is drawn freehand and then transferred to the cloth by stencil.
Rogan Painting :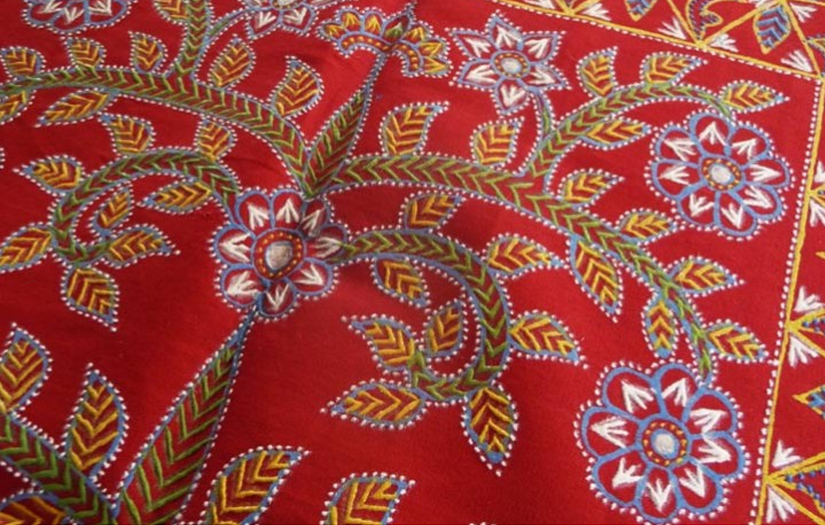 This craft is a form of surface embellishment and practiced for over hundred years, but now by only a single family in Nirona, Kachchh.
A special paste made of castor is used in this craft. Castor seeds are hand-pounded to extract the oil and turned into a paste by boiling, Colored powder diluted in water is then mixed with this.
The pastes of different colors yellow, red, blue, green, black and orange are stored in earthen-pots with water to prevent them from drying up.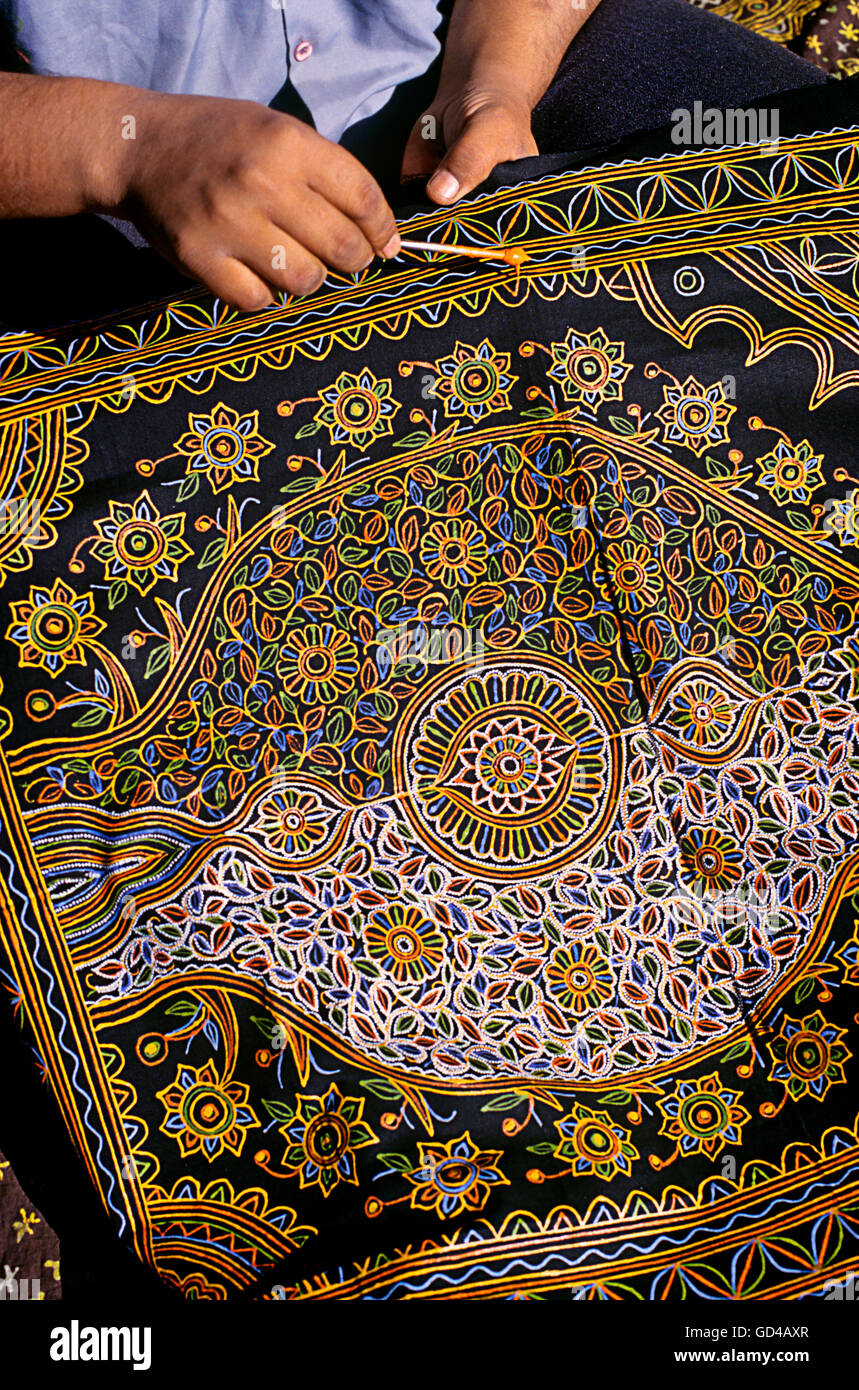 The Kalam, an iron rod, flat at both ends, is used to paint half the design with the support of the fingers of the left hand. It is then impressed on the other half of the cloth by pressing the two halves together. As they were inexpensive substitutes for embroidered textiles, they were popular alternative textiles for clothing.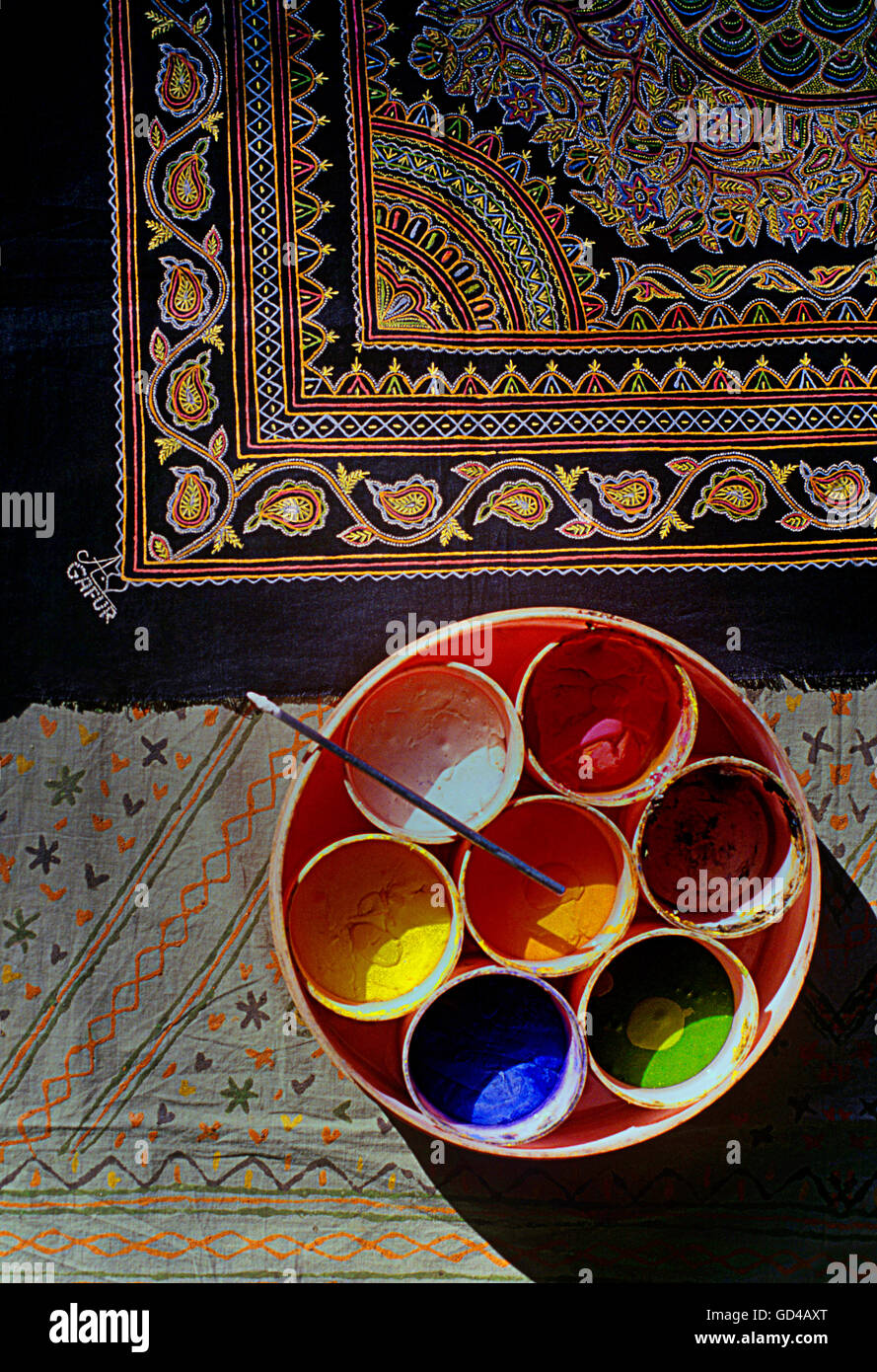 Today, cushion covers, bed spreads, skirts, kurtas, curtains, tablecloths and wall hangings are painted using this technique. Generally, geometrical motifs are preferred; motifs from nature such as tree-of-life are very popular for wall hangings.
Pithora Paintings :
Pithora Paintings are ritual wall murals practiced by the Rathwa, Bhil and Nayak tribes of Gujarat. They are found in Panchmahal, Dahod and Chotta Udaipur.
These paintings mark the rites of passage, and they are always done by men. Pithora Paintings signify the advent of auspicious occasions like weddings, childbirth and festivals in the family or community.
As a folk art form Pithora conveys the joys of every celebration.
The painting is an offering to Pithora, the god of food grains, installed to seek blessings before any auspicious occasion. Other deities sun and moon are also portrayed.
The painting is usually done on a wall between the courtyard and the kitchen. A border sets the boundaries within which the painting is executed.
The colours are prepared by mixing pigments with milk and liquor prepared from the auspicious Mahuda tree. The tools are made of simple implements–bamboo sticks, cotton, and woolen stencils.
The lakharas, painters, can begin to paint only when the Badva, Shaman, gives his approval.
The younger generation of tribals is exploring new markets to exploit their skills commercially, and they paint the Pithora paintings on paper and canvas now.
Warli Painting :
Warli Painting is a form of painting practiced by artisans of Dang district in Gujarat.
Traditionally composed by the Warli community found in the southern border areas of the state adjoining Maharashtra, Warli painting is also wall art tradition.
Although executed in a basic style and vocabulary which uses lines, circle, triangles and square to construct forms, this style is rich in expression.
Like the Pithora, these paintings also have ritualistic significance and are done inside the house, They are painted at the time of wedding and harvests. A central motif symbolizes the mother goddess and represents fertility or prosperity, executed in square shapes. The circle signifies the sun and moon, while the triangles are for human forms.
The Warli use only white for their paintings; the pigment is made from rice paste and water, and mixed with glue to bind it. The Warli style of painting has become popular in India and artists have begun to paint in a variety of media, including paper and cloth.
Wood Carving :
Wood Carving is one of the most important crafts in Gujarat. Decoration of wooden pieces by carving certain figures and figurines of gods and goddesses were very common in that age. Excavations at Mohenjo-Daro and Harappa have acquiesced evidence of primitive Indian woodcrafts.

Ludiya, a small village in Kachchh, is renowned for artistic wood carving. The Harijan community living in Dumaro and Ludiya are master craftsmen in carving wood. They use teak or the locally available wood for their craft. These craftsmen are skilled in carving both, minute geometrical and floral patterns.
Architectural elements like jharukha (overhanging balconies) and doors, furniture items like stools, cradles, bedposts and cot legs, and kitchenware have been produced using this exquisite carving technique.
Geometric and floral shapes are cut in a way that the raised portions create symmetrical patterns.
The craft was languishing as traditional utility wooden carved products were losing the market demand. It has now been revived and contemporary products like sofa sets, book racks, magazine holders and lampshades are popular today.
Bamboo Craft :
Tribals from Baroda make baskets, masks and flutes. Jodija Pahwai, a special double flute, is made in Banni and Kutch.
The tribal belt of Dahod, Dangs, Raipipla,Narmada, Bharuch, Tapi, Navsari and Valsad are famous for their baskets, trays, boxes, mats, and musical instruments.
Ambapada is the famous for decorative articles made from bamboo roots. The Kotwalia tribe is mainly engaged in basket weaving and has an effective production system.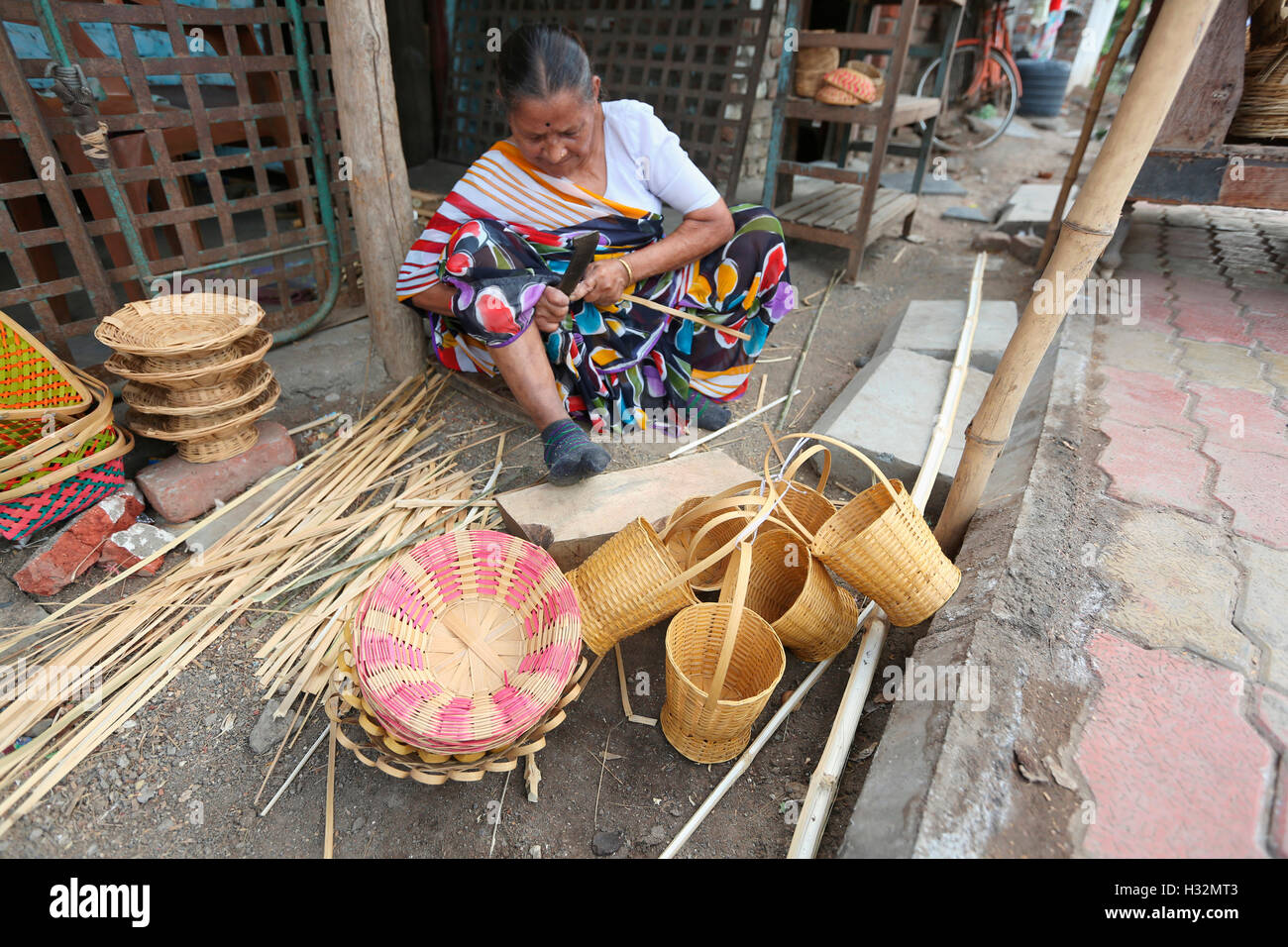 The craftsmen make an assortment of baskets, fish traps and window covers. India has utilized the bamboo wood in the wisest possible manner and the list goes endless, ranging from furniture, fences, gates, baskets and many other utilities.
The impetus provided by the success of these items led to the tribes venturing into making of domestic decorative items.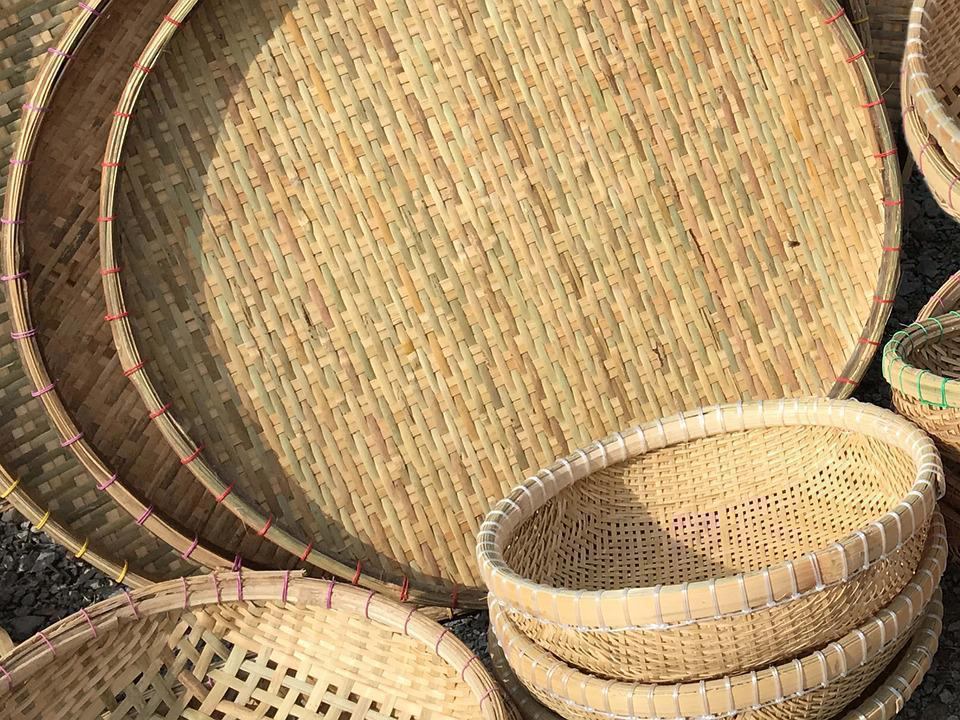 Sankheda Furniture :
Vibrant, colorful, heavily embellished Sankheda furniture is a common sight in traditional Gujarati homes. The lac-coated, turned-wood characterized by painted ornamentation furniture gets its name from its origins in Sankheda, a town in Vadodara district.
Google Shopping : Buy Sankheda Swings & Furniture Online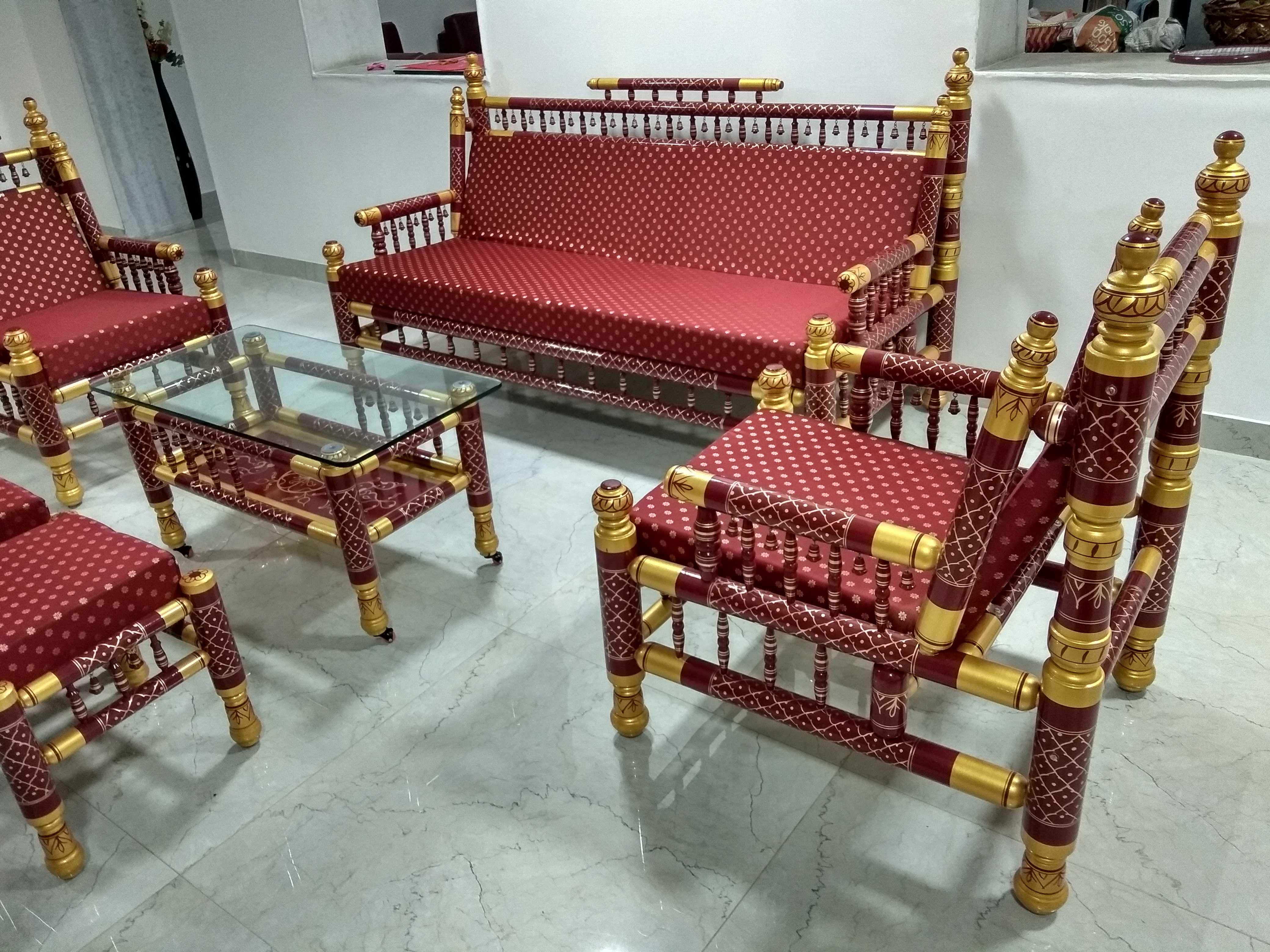 The craftsmen belong to Kharadi community and its members design furniture. Teakwood is fashioned on a lathe to create the pieces, and chiselled into a form. A natural resin secreted by tiny insects on lac trees is obtained.
Intricate designs are painted with Harakalai, powdered in premixed in a solvent. Floral and geometric patterns are painted with this mixture during turning of the wood itself. Agate stone is then used for furnishing.
The painted pieces are coated with lac with the help of the heat caused by the friction between wood and lathe, which produces a deep orange colour. The local kevada leaf and groundnut oil are used for the final finish.
Shopping : Buy Handcrafted Sankheda Furniture of Gujarat Online
The range of items in Sankheda craft includes sofa sets, chairs, centre tables, swings, dining tables, cradles, cupboard doors, corner tables and mirror frames. Orange, brown, gold, silver, yellow and red are the colors most commonly used to paint the wood.