ॐ श्री गुरुभ्यो नमः ॐ श्री शिवानन्दाय नमः ॐ श्री चिदानन्दाय नमः ॐ श्री दुर्गायै नमः
Source of all Images in this Blog-post : Google Images : 'Google Image Search' will reveal the multiple sources of every single image shared in this Blog. For more details, kindly see 'Disclaimer'
Golu Dolls for Navaratri 2022 – Buy Online
Donate to Crafts Council of India's 'CCI ARTISAN RELIEF FUND' to Save India's Ethnic Arts & Crafts for Posterity
Donate to Delhi Crafts Council's Covid-19 Atisans Help Fund
Tamilnadu's clay dolls are in demand globally, but shrinking margins may make it increasingly unattractive for the next generation of doll makers to pursue the vocation.
Although the clay dolls of Tamil Nadu have always occupied the pride of place, being sought after locally and overseas, doll manufacturers say the last few years have seen a dip in sales.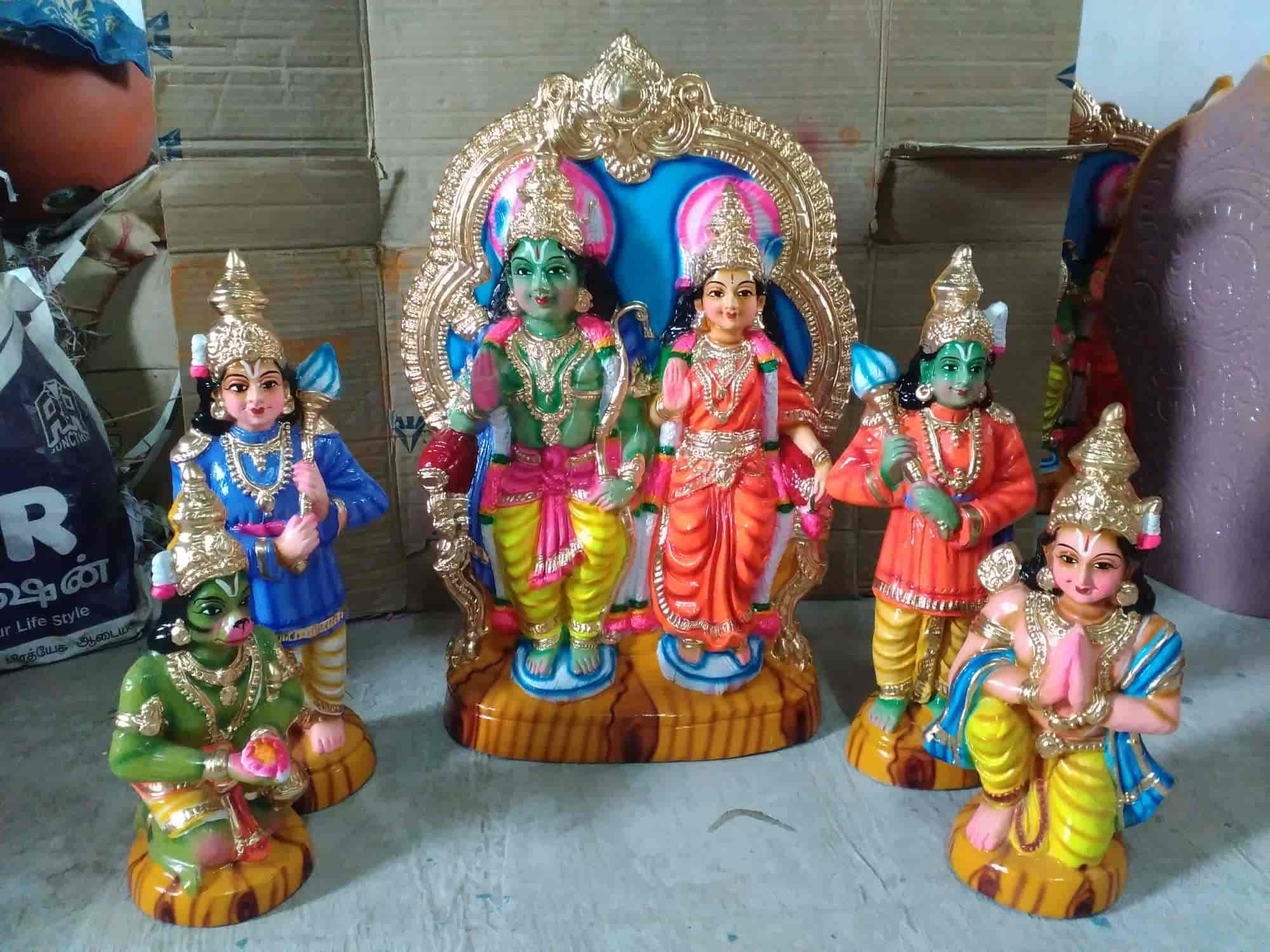 Traditional doll making families are trying to ensure that at least one family member stays with the art, as Gen Next looks at more lucrative career options.

During the Navarathri Kolu festival, people pull out all stops to display their unique collection of dolls put together over many years and generations.

Thanjavur, Villupuram, Panruti, Kumbakonam and Cuddalore in Tamilnadu are all sought after for their dolls, but Vilachery (Madurai) and Kosapettai (Chennai) are more popular, for their quality, creativity and large scale production. The more recent trend of making huge Vinayaka dolls has also caught on in Tamilnadu.
K.V. Mahalingam TOYS WORK, NO:3 MOOKU CHETTY STREET, KOSAPET,, Chennai (2021) : Cellphone @ 9176299937
WhatsApp @ 9841692537

NO:3 MOOKU CHETTY STREET, KOSAPET,, Chennai (2021) : Cellphone @ 9176299937
WhatsApp @ 9841692537
Thanjavur is well known for its laughing Buddha and Thanjavur dancing dolls. These dancing dolls are sold as souvenirs and there are around 20 families who are involved in this art.
Buy Golu Dolls Online from MyAngadi with mind-blowing collection of dolls

Each family makes around 2,000 dolls a month. These dolls are a major tourist attraction. It was a roaring business in the last decade but over the last few years, sales have dropped and many of the artisans have quit the business.
Golu Doll Exhibition in Poompuhar Emporium Chennai

Golu Doll Exhibition Cum Sale in North Mada Street Mylapore Chennai :
With the declining trend, these doll makers find it difficult to sustain the interest and attract the next generation into this profession, and some of them even feel it's a waste of time and energy.
Buy Kolu Dolls Online from Giri Trading
Unless the State protects these creators and the next generation turns its attention towards developing this art-form, doll making will see no growth in coming years.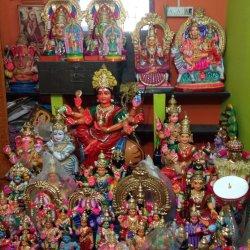 There are around 80 families involved in this business in Kosapettai.
Festivals like Navaratri, Vinayaka Chaturthi are the seasons when these dolls have good demand. During off season the craftsmen look for other employment.
K.V. Mahalingam TOYS WORK, NO:3 MOOKU CHETTY STREET, KOSAPET,, Chennai (2021) : Cellphone @ 9176299937
WhatsApp @ 9841692537
There are varieties of doll sets including Dasavatharam, Ramar Pattabhishekam, Soorasamharam, Hanuman at the Ravan Darbar, Kumbakarnan, Maya Bazaar and dolls for all Hindu ceremonies.
Golu Dolls Buy Online directly from the Manufacturers of Navarathri Golu Dolls
Every year, visitors from foreign countries come to Vilachery village to see the doll making. The State Tourism Department can declare Vilachery as 'art and craft village' and bring people here to promote the craft. The government should also extend a helping hand through schemes and help the artisans develop this art form.
Vandipalayam and Manavalli places, there are more than 300 craftsmen involved in the craft of making kolu dolls. Their dolls depicting Ramayana stories, Alwars and Nayanmars are also very popular.
Earlier getting clay for making these dolls was easy as it was abundantly available for free, but now after the ban on taking clay from river and tank beds, these artisans find it difficult to get quality clay. Also, quality clay is sold for a premium price and that is also the reason for the rise of price in these dolls.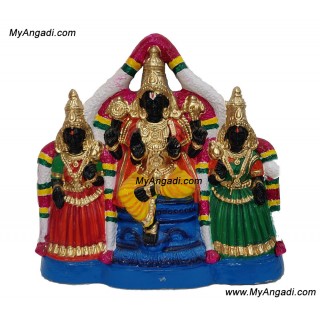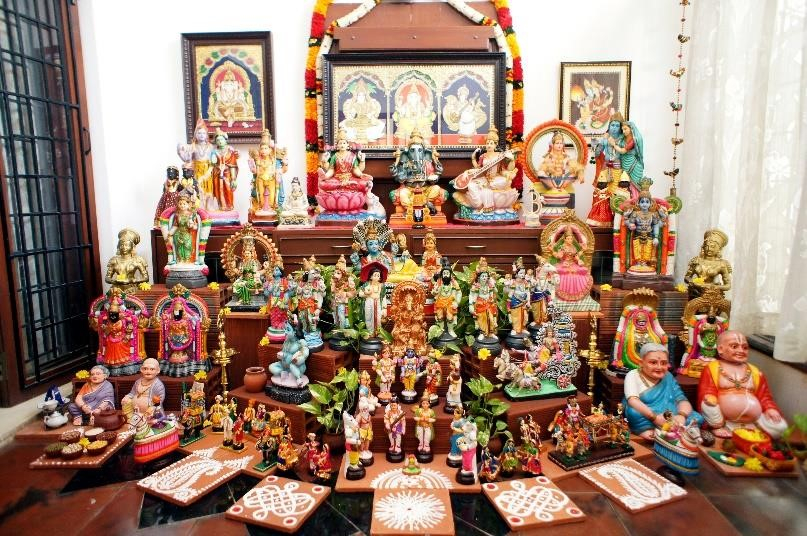 Support to the doll makers
State government unit Poompuhar procures dolls from artisans. It markets these dolls through its direct sales counters during festival season such as Karthigai, Pongal and Navarathri
The dolls are also marketed through Poompuhar websites, which give names and addresses of the artisans
State government issues identity cards for the artisans. Bank loan up to Rs one lakh can be availed of with the card. The artisans can also claim Rs 5,000 as compensation during the rainy season
Vilachery dolls are exported to US, Germany, Gulf countries, Malaysia and Singapore
Kosapettai dolls are exported to Malaysia, Singapore and Indonesia
When business is dull in TN, these doll makers through agents go to Telangana, Andhra Pradesh and Karnataka for work
The doll makers can register with organisations like Southern Handicrafts Industry Association and enjoy medical benefit of up to Rs 15,000 for the family under Rajiv Gandhi Shilpi Swasthya Bima Yojana
Central and state government award holders are eligible for Rs 1,000 per month as pension after the age of 60
Kosapettai doll makers are now striving for GI tag for their creations
The Golu Doll Exhibition-Cum-Sale of Poompuhar Emporium every year is something truly worth witnessing. A real visual treat for doll collectors. Here are a few Google Videos
Krishnanagar clay dolls of rural Bengal are also extremely beautiful and brilliant art-pieces. These dolls are found in all great art-museums and art-galleries around the globe as priced collections. Worth exploring these dolls too for Navaratri Golu (Kolu)
Papier Mache Dolls of India, Clad in Beautiful Costumes are also great art-pieces. Worth exploring for Navaratri Golu – The Festival Of Dolls Of South India
Golu Doll Exhibition-Cum-Sale in Kuralagam in the Metro City of Chennai :
Golu Doll Exhibition-Cum-Sale in Khadi Bhavan Chennai