ॐ श्री गुरुभ्यो नमः ॐ श्री शिवानन्दाय नमः ॐ श्री चिदानन्दाय नमः ॐ श्री दुर्गायै नमः
Source of all Images in this Blog-post : Google Images : 'Google Image Search' will reveal the multiple sources of every single image shared in this Blog. For more details, kindly see 'Disclaimer'
Rajput painting, also called Rajasthani painting, evolved and flourished in the royal courts of Rajputana in northern India, mainly during the 17th and 18th centuries.
Artists trained in the tradition of the Mughal miniature were dispersed from the imperial Mughal court, and developed styles also drawing from local traditions of painting, especially those illustrating the Hindu religious epics, the Mahabharata and Ramayana.
Rajput Miniature Paintings on Google Shopping : Click here to purchase
Subjects varied, but portraits of the ruling family, often engaged in hunting or their daily activities, were generally popular in these paintings, as were narrative scenes from the epics or Hindu mythology.
The colours were extracted from certain minerals, plant sources, conch shells, and were even derived by processing precious stones. Gold and silver were used.
Rajasthan is one of the pioneer seats of miniature paintings in India. This art form evolved here in Marwar-Mewar region as textual illustrations to the Jain text Kalpa-Sutras around the early 15th century.
There reflects in these paintings a continuity of the great traditions of Ajanta murals and Jain art of Gujrat.
This initial art style, which manifests in its most evolved form in the Bhagavata paintings rendered at Palam in 1555 and reflects in all subsequent major or minor art styles of Rajasthan, is a blend of indigenous art forms and the elements of the art traditions of Ajanta and Gujarat.
Except for some scattered folios of various texts and largely washed murals, Marwar has lost most of its early art heritage. The bulk of miniature paintings that depicts the initial art style of Rajasthan in its most undiluted form, is reported from Mewar.
Bold lines, emotionally charged faces, sharp features, robust figures and basic bright colours are its distinctive features.
Illustrations to Dhola Maru rendered at Aghatpur, Gita-Gobinda and Rasa Manjari are amongst the earliest known examples of Mewar style.
Rajput Miniature Paintings on Google Shopping : Click here to purchase
Texts like Rasikapriya, Surasagara, Ramayana, Bihari-Satsai, despite intrusion of Mughal elements, were the dominant themes of Mewar. Painters like Sahibdin and Manohar, using Mughals' stylistic perfection and the themes of Indian origin, created several timeless masterpieces.
In serialising folks like Dhola Maru, Bhakti-ro-patra, Panchakhyano-ro-patra, Bana-bheda-ro-patra, abstractions like Ragamala the Mewar art has the fragrance of its soil.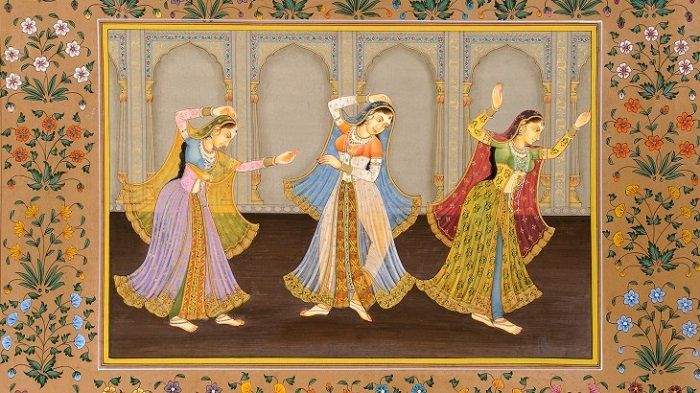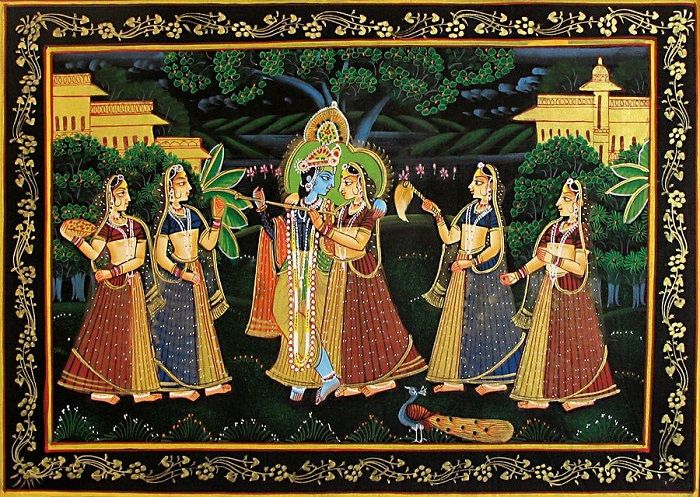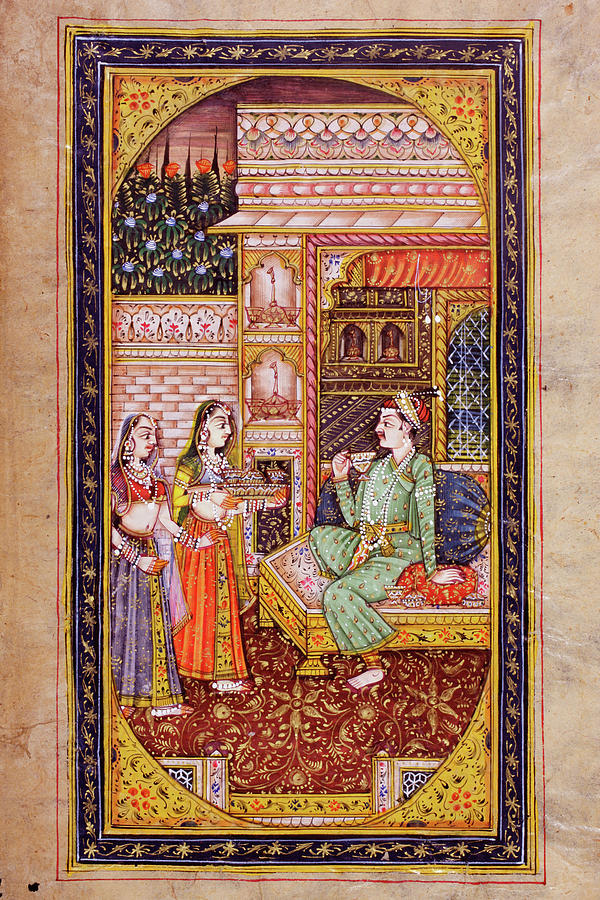 Rajput Miniature Paintings on Google Shopping : Click here to purchase
There developed at Shahpura, Pratapgarh, Deogarh and Nathdwara sub-centres of Mewar art.
Shahpura and Pratapgarh excelled in royal portraits, Deogarh in variety of themes and Nathdwara in representations of Shrinathji. Nathdwara used a variety of mediums but it surpassed all in its large size cloth wall-hangings, known as 'Pichhawais'.
The first set of Bundi miniatures, a depiction of Indian Ragas, was painted at Chunar. Bundi excelled in its illustrations of Krishna-Lila and Rasikapriya.
The blend of Mughal and Deccani art elements in Bundi style is unique. Ragamala illustrations, legends like Laila Mujnun, historical events and scenes of the harem and village life are favourite themes of Bundi.
Fine colour combinations, compositional unity, delicate line-work, manipulation of diverse elements, a blend of 'real' and 'imagined', vibrant landscapes and a strange power to drag the mind impart to Bundi its stylistic distinction.
Kotah's favourite themes are Rama-Katha, Krishna­lila, Mahabharata and other Vaishnava themes.
In unity of theme and style, contrasts and balance and well reconciled diversities, Kotah is influenced by Bundi, but Kotah excels Bundi in depiction of themes like Baramasa, festivals, hunting, wild life and vibrant nature consisting of trees waving like a rivulet.
Its depiction of beauty, charm and various emotional situations are highly sensuous. Kotah miniatures are exceptionally innovative in portraiture, court and harem life.
Uniara, a sub-school of Kotah, is excellent in clubbing various festivals with conventional themes like Baramasa and in the depiction of Ragas and various myths. Indergarh, another Kotah sub-school, preferred portraits.
Bikaner style is predominated by Mughal elements. It is partly because most of its master artists, Ali Raza, Ustad Sahibdin, Rukunudin, Nuruddin and Murad, had come from the Mughal world and were adept in the Mughal style.
But, despite, in its themes Bikaner always inclined to Hindu myths and legends like Krishna-Lila, Ramayana, Bhagavata, Devi-Mahatmya and Ragamala.
Depictions of village life, Baramasa, festivals, processions, hunting and the like also have an indigenous touch. Perfect technical execution, maturity of form, elegance and soft colour effects, the widely known 'neem-kalam', is in contrast to Rajasthan's bright deep tones, characterised Bikaner miniatures.
Rajput Miniature Paintings on Google Shopping : Click here to purchase
Jodhpur inherited the art tradition of prior Marwar, which Pali, its sub-centre, revived in early 17th century in its Ragamala paintings. The initial idiom of Marwar art style defines these Pali paintings.
This Pali idiom was replaced by Mughal elements in subsequent Jodhpur Ragamala paintings. Jodhpur excelled in the depiction of Baramasa, Ramayana, votive images of gods and the scenes of harem life.
Kishangarh excelled in the sensuous rendering of mystic feminine beauty; an ideal realised in Bani-Thani. Its artists Bhawani Das, Surat Ram, Nihal Chand gave to the art-world some of its timeless masterpieces.
The Krishna-cult dominated the Kishangarh art scenario, but Ramayana episodes, hunting scenes and portraits were also rendered. Raja Sawant Singh, a great art patron, was often painted as Krishna.
Miniature art at Jaipur began during the reign of Sawai Jai Singh. Muhammad Shah and Sahib Ram were the principal painters of the Jaipur style.
Jaipur excelled in life-size portraits, depiction of myths, ragas, astrological principles and different amusing and erotic themes. Jaipur generally used a large size canvas, ornate backgrounds and bright gorgeous borders.
Alwar, a sub-centre of Jaipur, excelled in fine compositions, mystic feminine beauty, variety of themes and graceful figures. Amer preferred representations of abstract themes. Ajmer Sawar went for hunting scenes rendered vigorously. Jalor; Jaisalmer and Pushkar confined their art activity to frescoes.
Rajput Miniature Paintings on Google Shopping : Click here to purchase