ॐ श्री गुरुभ्यो नमः ॐ श्री शिवानन्दाय नमः ॐ श्री चिदानन्दाय नमः ॐ श्री दुर्गायै नमः
Source of all Images in this Blog-post : Google Images : 'Google Image Search' will reveal the multiple sources of every single image shared in this Blog. For more details, kindly see 'Disclaimer'
Sitalpatti Mat Weaving of West Bengal :
Sitalpatti a kind of mat, is perhaps the most notable and popular product among the handicrafts of Cooch Behar. Unlike other kinds of mat woven in Bengal, Sitalpati is more expensive.
Barokodali, Ghughumari and Nakkati-Pushnadanga of Cooch Behar district are the most important centers of Sitalpati.
Besides Sitalpatti is also available in states of Tripura, Assam and in the neighboring country of Bangladesh.
Shital Pati Bags & Hand Bags : Explore & Buy on Google Shopping
The word 'Sital-pati' means cool-mat. The makers are usually Kayasthas in caste, not a traditional craftspeople caste. The raw material is the Mutra cane (Maranta dichotoma).
The green cane is kept soaking in water before it is slashed/sliced into thin strips for making the pati. Then the fine strips are woven by skillfully joining and interlacing to shape into beautiful mats.
The quality of the Sitalpati mat is judged by its glossiness, smoothness and fineness of texture. It is said that the best kind of Sitalpati is so smooth that even a snake cannot glide over it.
This particular quality of mat is particularly suited for the warm and humid climate of this part of West Bengal.
Sitalpati mats render a feeling of coolness (thus rendering the name 'Sital' or 'Sheetal') to the person sitting or sleeping on it, and are intimately linked with everyday rural life. But besides being a rural craft, this is now available outside the rural hinterlands.
The aesthetic appeal and utilitarian value of these mats have made them increasingly visible in large towns and metropolitan cities thus expanding their traditional market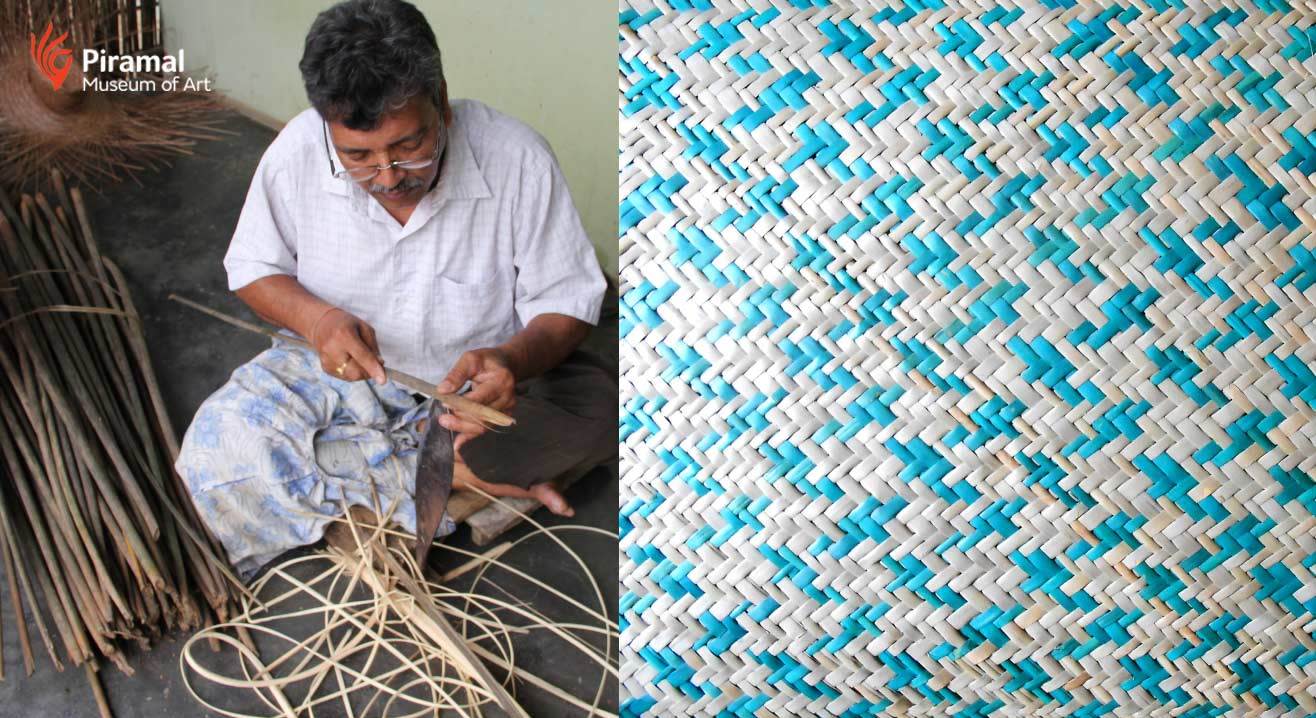 Want to learn more about the Sitalpati mats of Coochbihar in West Bengal : Click here to explore