ॐ श्री गुरुभ्यो नमः ॐ श्री शिवानन्दाय नमः ॐ श्री चिदानन्दाय नमः ॐ श्री दुर्गायै नमः
Source of all Images in this Blog-post : Google Images : 'Google Image Search' will reveal the multiple sources of every single image shared in this Blog. For more details, kindly see 'Disclaimer'
In the year 1959, the Odisha State Co-operative Handicrafts Corporation Ltd. (OSCHC Ltd.) was established with the primary objective of providing marketing support to the talented handicraft artisans of Odisha. Additionally, OSCHC Ltd. actively engages in various developmental activities to uplift the artisans' community. These include establishing a raw-materials bank, issuing Photo I. Cards to craftsmen, conducting skill training programs, facilitating product development initiatives, assisting in GI Registration, and organizing exhibitions at strategic locations.
Recognizing the growing prominence of e-commerce, OSCHC Ltd. has collaborated with renowned online platforms such as Snapdeal, Flipkart, and Indiamart to promote and sell Odisha's exquisite handicrafts through online marketing channels.
Currently, the Corporation employs a workforce of 95 individuals. To lead the organization, an O.A.S officer has been appointed as the Managing Director, ensuring efficient management and administration. Additionally, two I.P.Os (Indian Postal Service officers) have been deployed, further enhancing the Corporation's operational capabilities.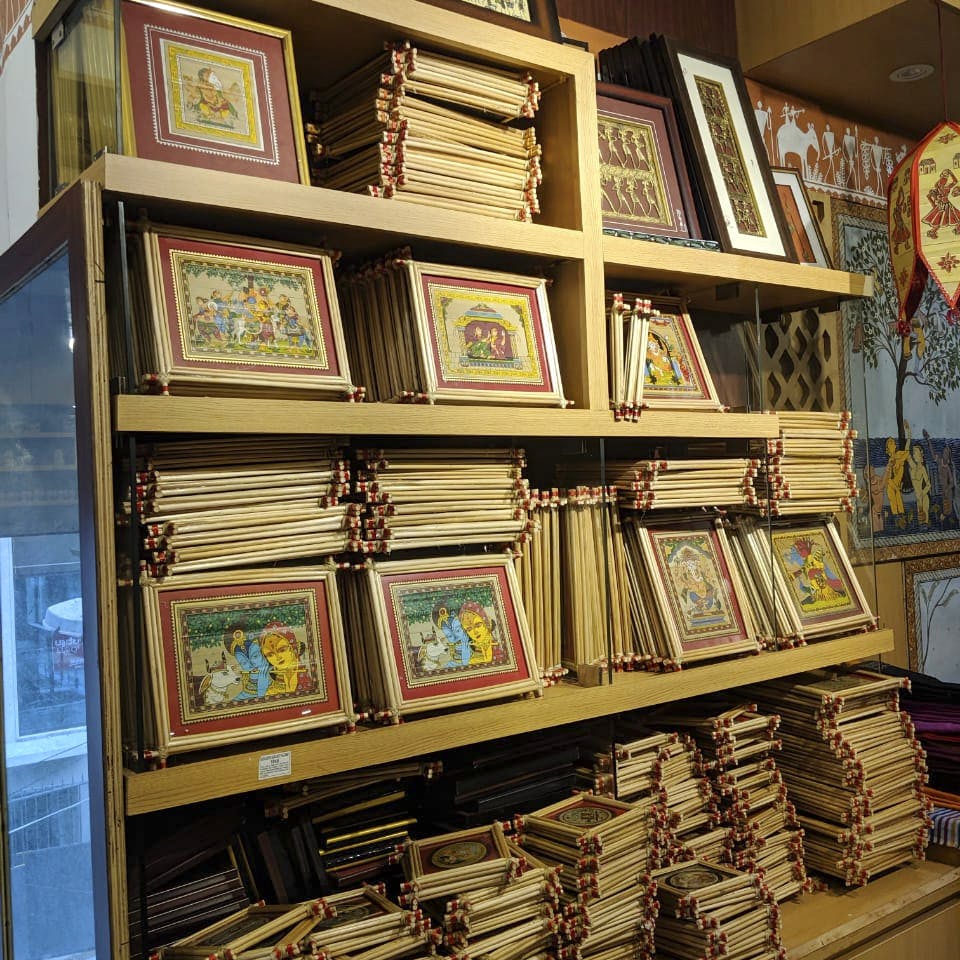 The Odisha State Cooperative Handicrafts Corporation Ltd. has adopted the name "Utkalika," drawing inspiration from the ancient name of the state, Utkal.
Currently, Utkalika has established 17 branches both within and outside the state of Odisha, situated at the following locations.
| | | | |
| --- | --- | --- | --- |
| | Inside the State | | Outside the State |
| 1 | Utkalika, Market Building, Unit-2, Bhubaneswar | 1 | Utkalika, B.K.S. Marg, New Delhi |
| 2 | Utkalika, Jail Road, Cuttack | 2 | Utkalika, Fergussion College Road, Pune. |
| 3 | Utkalika, Sea Beach Road, Puri – 1. | 3 | Utkalika, Shop No. 1, Odisha Bhawan, Vasi, Navi Mumbai |
| 4 | Utkalika, Debottar Market Complex, Jeypore, Koraput | 4 | Utkalika, Residency Road, Bangalore – 25 |
| 5 | Utkalika, V.S.S. Marg, Sambalpur | 5 | Utkalika, Shaifabad, Hyderabad-4. |
| 6 | Utkalika, Sector-5, Rourkela-2. | 6 | Utkalika, C.I.T. Market Complex, Garhiahat Road, Kolkata-68 |
| 7 | Utkalika, Pipli Main Road, Pipli | | |
| 8 | Utkalika, Biju Patnaik International Airport, Bhubaneswar | | |
| 9 | Utkalika, Near Bus Stand, Angul | | |
| 10 | Utkalika, Redcross Bhawan, Sambalpur | | |
| 11 | Utkalika, Biju Patnaik International Airport (Terminal-II), Bhubaneswar | | |
Address of Uthkalika Showrooms
Over the centuries, Odisha has gained recognition for its rich heritage in handicrafts. The small town of Pipli, particularly renowned worldwide, showcases exemplary applique work, a traditional form of artistic patchwork. The highly coveted items include wall hangings, lamp shades, purses, and garden umbrellas adorned with Pippli applique work.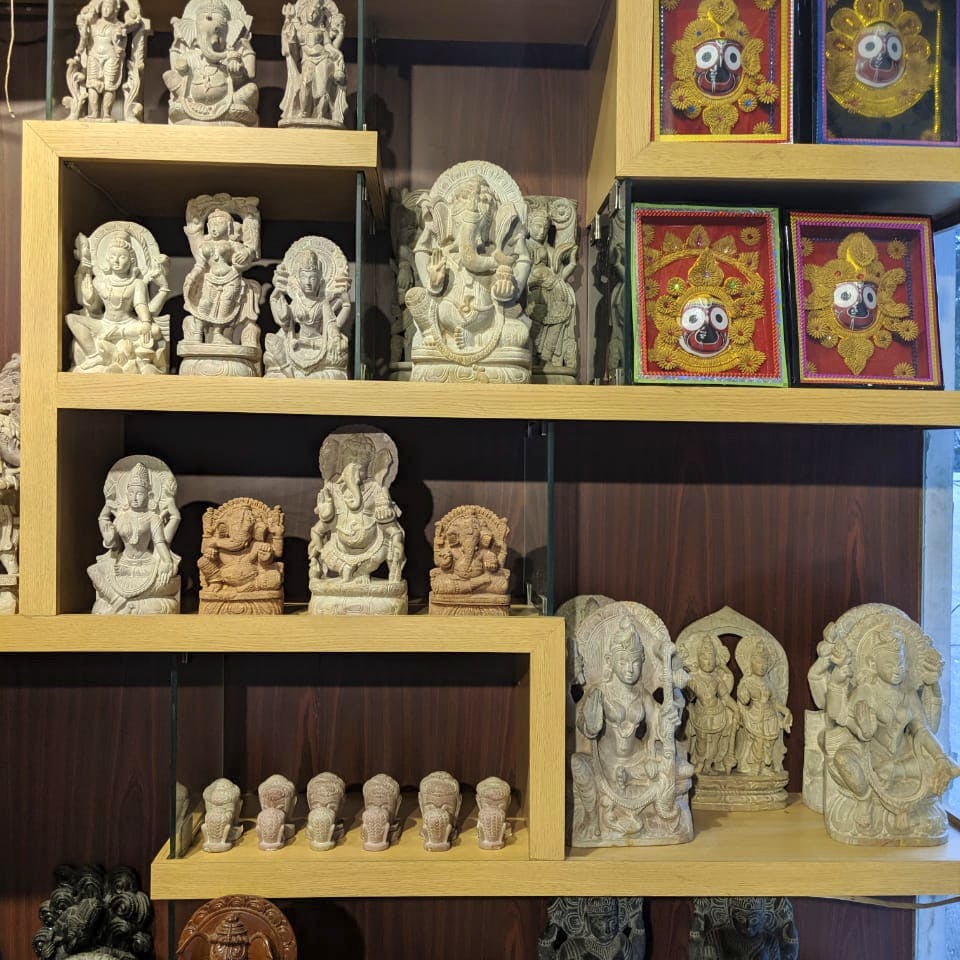 Utkalika offers a diverse range of handcrafted artifacts, including the Dhokra metal craft created by the local Dhokra tribes, exquisite woodcrafts, intricate horn craft pieces, vibrant Pattachitra paintings, unique terracotta items, captivating tribal jewelry, and beautifully engraved palm leaf creations.
Silver filigree, an exquisite art form originating from the erstwhile Persian countries in the 15th century, continues to flourish in Cuttack. This intricate technique is employed to craft stunning pieces of jewelry, as well as ornamental idols and religious artifacts. Utkalika, a renowned establishment, offers a diverse range of these masterpieces at its outlets.
Utkalika's primary objective is to provide comprehensive sales and marketing support for the state's handcrafted items. The corporation actively encourages designers to embrace the latest trends and adapt to evolving customer preferences.
Apart from its presence in Bhubaneswar with two outlets located in the Market Building and the Airport, Utkalika has an additional five outlets spread across the state. Furthermore, the emporium has branches in prominent cities such as Delhi, Kolkata, Mumbai, Pune, Bengaluru, and Hyderabad. It is a testament to the pride of the people of Odisha that nearly every drawing room in the state proudly displays an indigenous Odisha artifact.
Utkalika, as the official Odisha state government emporium, is the epitome of authenticity when it comes to shopping for exquisite handlooms and handicrafts made from materials like bamboo, jute, and cane.
What Makes Utkalika Awesome:
Utkalika emporium in Bangalore :
Located opposite Nagarjuna Hotel on Residency Road, the Utkalika emporium in Bangalore is an absolute must-visit destination.
If you're passionate about handlooms, particularly Ikats and Kotpad cotton, then this is the ideal place for you.
As you step inside, your attention will be captivated by an extensive collection of sandstone sculptures. The shelves of this showroom display vibrant and traditionally adorned Odisha-style hand-painted wall hangings and decorations.
Every piece available here is meticulously crafted by the talented artisans of Odisha. They offer a range of tribal brass statues, hand-painted mural paintings, and intricately carved wooden dolls from Odisha.
You'll also discover bamboo mats adorned with wooden hand-painted alphabets, numbers, and animals, perfect for home decor. The adorable birdie wall hangings, as well as the variously shaped cane baskets and boxes, add to the charm.
Transform your walls with affordable cane-framed traditional paintings on bamboo, available in different sizes. These items make excellent gifts for anyone who appreciates handicrafts.
The mesmerizing collection of handlooms at Utkalika will leave you spellbound. From small handicraft items to exquisite sarees, you'll find something to suit your taste. Handloom sarees like Ikat and Bichitra Puri silk start at INR 1,300 and come in a variety of colors, including orange, green, blue, red, black, and white.
Additionally, you can find wall clocks adorned with Worli paintings, intricately hand-painted cane lanterns, and small wooden decor pieces that add a touch of elegance to your space.
Handicrafts are an integral part of Odisha's rich cultural heritage. These artistic creations are meticulously crafted by skilled artisans, embodying beauty and creative imagination.
Historically, Odisha, formerly known as Utkal, was synonymous with excellence in arts and crafts. Handicrafts and handloom products played a vital role in the maritime trade of the Kalinga Empire.
Even today, Odisha's handicrafts enjoy global recognition for their exceptional value and beauty. Generations of artisans have honed their craftsmanship, employing innovative techniques and unmatched skill to produce exquisite products that have gained worldwide acclaim.
Odisha's precious handicrafts go beyond mere objects; they represent a significant part of the culture and a profound link to its glorious past. The national and international recognition bestowed upon Odisha's craftspeople is a testament to the excellence of their craftsmanship.
To date, 129 master craftspeople have received the National Award and National Merit Certificate. Three master craftspeople have been honored with the Padma Award, while three renowned craftspeople have been recognized with the Shilpi Guru Award.
Some of the Crafts of Odisha :
Applique Work :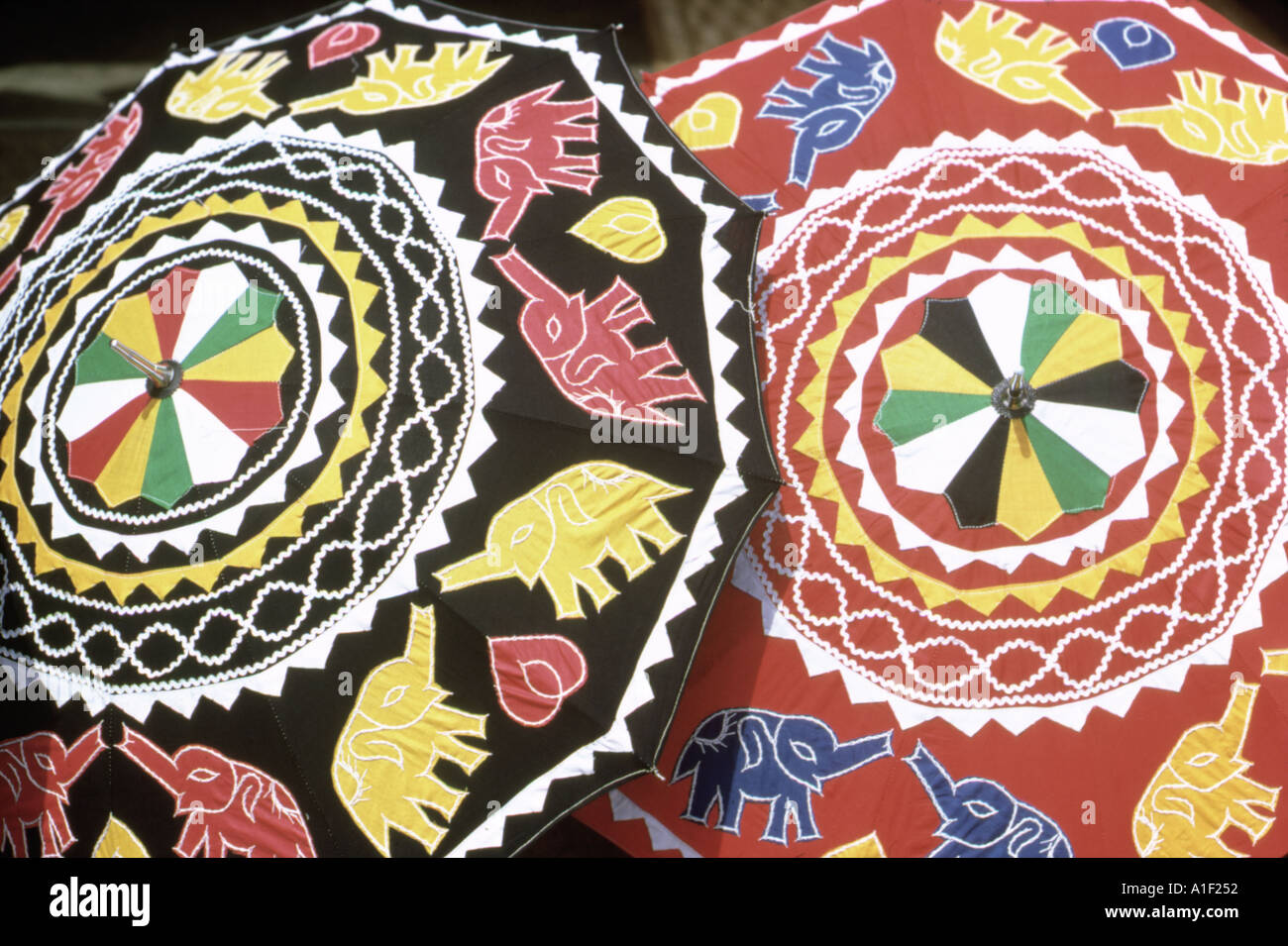 Google Shopping : Buy Applique Work of Odisha Online
Chanduakama, also known as Appliqué locally, refers to the practice of using colored cloth to create intricate designs of birds, animals, flowers, leaves, and other decorative motifs. These designs are meticulously cut and shaped, then hand-stitched onto a fabric.
This traditional craft has given rise to various popular creations, including Chandua, Garden umbrellas, bags, wallets, lamp shades, cushion covers, and file covers. These items showcase the skill and artistry of the craftsmen who bring the vibrant and lively world of Chanduakama to life.
Google Shopping : Buy Pipli Applique Garden Umbrella Online
Pattachitra & Tussar Silk Painting :
Pattachitra is a traditional painting style that is practiced on handmade canvas (known as Patti) or tussar cloth. It involves the skillful application of rich and vibrant colors, intricate motifs, and captivating designs. The subjects of Pattachitra paintings often revolve around simple themes, with a predominant focus on mythology.
In recent times, this ancient art form has evolved to encompass a range of utility products. Craftsmen now combine Pattachitra patterns with materials like wood, terracotta, plywood, and more to create exquisite items such as jewelry boxes, lampshades, and pen stands. The popularity of Pattachitra has also led to the emergence of painted sarees, which have gained significant recognition and appeal.
Pattachitra Paintings :
Pattachitra, an iconic art form believed to have its roots in the early 12th century, has emerged as one of India's most popular living art forms. Its vibrant presence can be witnessed daily as people in Odisha actively engage in practicing this captivating painting style.
Google Shopping : Buy Pattachitra Painting Online
Cane and Bamboo
Cane and bamboo are transformed into various exquisite crafts through a meticulous process. The bamboo stem is skillfully sliced into slender, flat strips and intricately woven or interlaced, giving rise to a plethora of craft items such as mats, storage containers, baskets, trays, fruit bowls, lamp shades, and candle stands.
Similarly, cane undergoes a similar transformation, lending itself to the creation of diverse products. With the same delicate technique, cane is fashioned into elegant sofas, stylish handbags, durable file covers, practical pen stands, versatile containers, and captivating decorative items, among others.
Palm-leaf Engraving
Palm-leaf engraving, also known as "Tala Patra Chitra" or "Pothi Chitra," is a revered traditional painting technique. The process begins with the preparation of palm leaves, which are carefully trimmed to the desired size. These leaves are then stitched together, forming a canvas onto which intricate images are traced using a sharp-pointed iron tool called a Lekhani.
The grooves created by the Lekhani are subsequently filled with either black or white ink. These grooves are etched on rows of equally-sized panels of palm leaves that have been skillfully sewn together, resulting in a captivating display of artistry and craftsmanship.
Palm Leaf Paintings :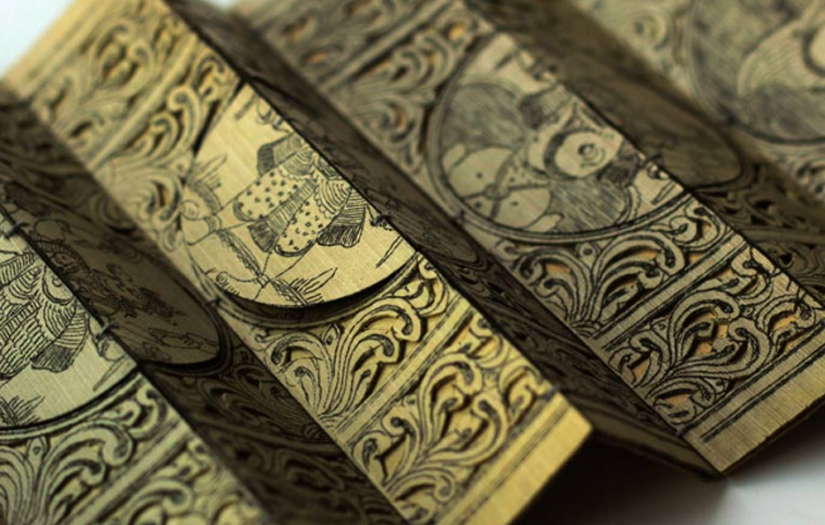 Google Shopping : Buy Palm Leaf Pattachitra Painting Online
Throughout the era when communication relied on the written word, the ancient art form of palm leaf painting, known as Talapatra Chitra, thrived in the region of Odisha. This sacred art form has deep roots within the cultural heritage of the state, embodying its rich history and traditions.
Horn Work :
Horn craft reigns as the most renowned craft among the various traditional crafts of Odisha. This mystical art form captivates with its wide array of exquisite decorative items. Skilled artisans utilize cow and buffalo horns to craft not only decorative pieces but also practical utility products such as jewelry, ashtrays, combs, and other ornamental items. The art of horn craft exemplifies the ingenuity and craftsmanship deeply ingrained in Odisha's artistic heritage.
Shopping : Buy Horn Handicrafts of Odisha Online
Papier Mache:
Papier-mâché is among the revered arts and crafts of Odisha that enjoy global acclaim. This craft form thrives in various regions across the state and encompasses the ingenious use of discarded cloth, natural fibers, and paper materials. Waste cloth, along with other sustainable resources, serves as the foundation for the creation of stunning papier-mâché artworks, showcasing the skill and creativity of Odisha's artisans.
Bell Metal and Brass Handicrafts:
Google Shopping : Buy Dhokra Craft of Odisha Online
The Dhokra craft holds significant cultural importance as an indigenous art form originating from the Kansari and Dhokra tribes of Odisha. This traditional craft primarily utilizes bell metal and brass, resulting in exquisite creations. Revered as a popular folk art, Dhokra craft encompasses the skillful production of a wide range of household items and decorative pieces, showcasing the artistic prowess and cultural heritage of Odisha's tribes.
Lacquer Work :
Lacquer Work, a renowned tribal craft originating from Odisha, is predominantly carried out by skilled women artisans. This traditional art form entails the creation of exquisite folk articles such as bangles, toys, and necklaces using the intricate technique of lacquer art.
Sand Art :
Odisha is renowned for its exceptional expertise in sculpting remarkable creations out of sand. The art of sand sculpting has gained global recognition and the coastal town of Puri in Odisha is particularly famous for this art form. As a testament to its prominence, the state hosts an annual International Sand Art Festival, showcasing the mastery and creativity of sand artists from around the world.
Jhoti Chita, Muruja :
Jhoti Chita, a traditional art form of Odisha, is skillfully showcased on both floors and walls. This captivating art style, widely cherished in rural regions of the state, involves creating intricate line art using a white-colored liquid paste made from rice, also known as Pithau.