ॐ श्री गुरुभ्यो नमः ॐ श्री शिवानन्दाय नमः ॐ श्री चिदानन्दाय नमःॐ श्री दुर्गायै नमः
Source of all Images in this Blog-post : Google Images : 'Google Image Search' will reveal the multiple sources of every single image shared here. For more details, kindly see 'Disclaimer'
Screw pine craft of Thrissur in Kerala is the craft of making different types of mats and wall hangings using the leaves of the screw pine plant as practised by artisans in Kerala.
Buy Screw Pine Bags of Trissur from Indiamart on Google Shopping
Weaving of mats using leaves of the screw pine plants is a craft practiced mostly by women in Kerala. This craft, which is practised by artisans in all the districts of Kerala, has been in existence as long ago as 800 years.
The mats produced by screw pine has a significant role in the traditional customs of Kerala.
Important visitors to homes were offered these mats as honoured articles to be sat upon. Finer varieties of these mats were also used as bed for sleeping.
Thrissur a revenue district of Kerala is situated in the central part of the state. The place renowned for its rich cultural heritage is called the cultural capital of Kerala.
Screw pine is a core natural resource of Trissur from which the people of screw pine growing region make use of the plant to enrich their living. The natural resources are collected from the people and processed.
There are so many products that can be produced from screw pine leaves and the roots are also used to make paintbrushes.
The leaves are very widely used in producing variety of products. The leaves are hand weaved and the products are very suitable to use, as they are eco-friendly and the dye colors what goes in coloring the leaves contain chemicals in very small amount and which doesn't affect the environmental protection.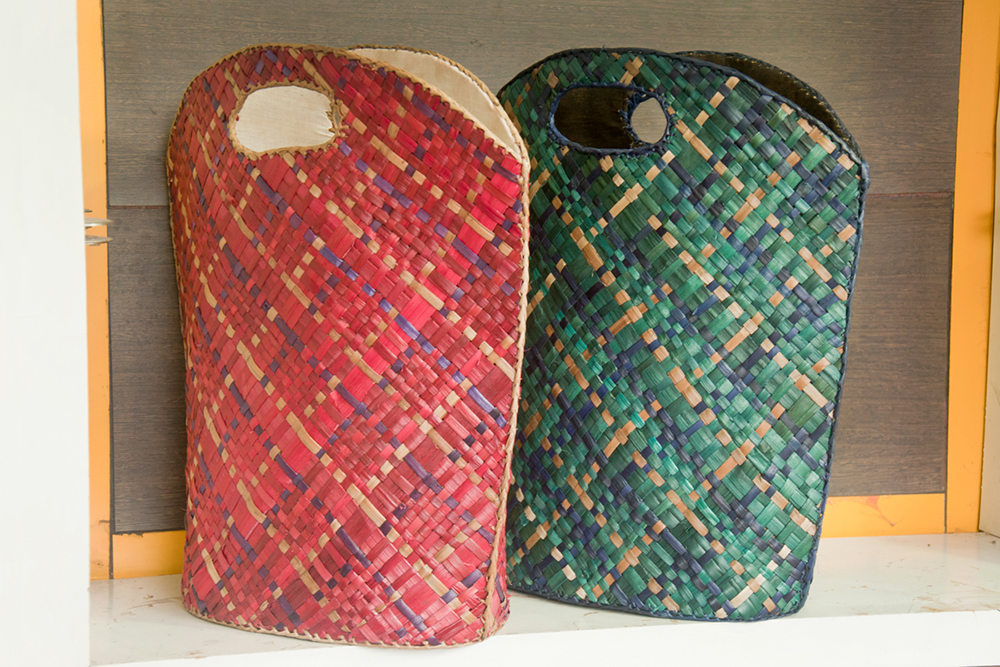 Products
The products that are weaved are small bags, hand bags, braided bags, coasters, bowl like holders, pillows, boxes with weaved lids, file holders, sling bags, jewelry boxes and more.
The rates vary according to the products. It starts from INR 50 and goes up to thousands price ranging from smaller ones to bigger ones. The products are handmade and very eco-friendly.
The renowned srew pine craft of Kerala
Screw pine craft or pine craft is a traditional cottage industry in Kerala. It was started as an empowerment tool for women in the geographical region but later became highly popular due to its eco-friendly form of practice.
It is produced in Malappuram and Lokamaneshwaram in Thrissur district of Kerala. It ranges from a variety of bags, table mats to beach hats.
Screw pine, also known as pandanus (Thaza in Malayalam) is largely available in Kerala. It belongs to Pandanaceae family.
They are identified by sword-shaped leaves, prickly margins, and aerial roots, spliced pandanus leaves are very flexible and pliable. they bear a strong resemblance to palm leaf.
It is a large plant that grows best in sunlight but requires shade from the bright summer sun.
The Process
1 The pine leaves are first cut with a Katti(knife) and the thorns are spliced apart splicing the leaf into two. the leaves are then rolled outwards to prevent them from curling.
2. After drying it is straightened by rolling it the other way in a circular reel.
3. If the leaf is bleached or dyed it again leads to curling which adds to the complication. thus it is done with bare hands and is quite tedious.
Post this task it depends on the craftsman the shape he/she wants to create out of them.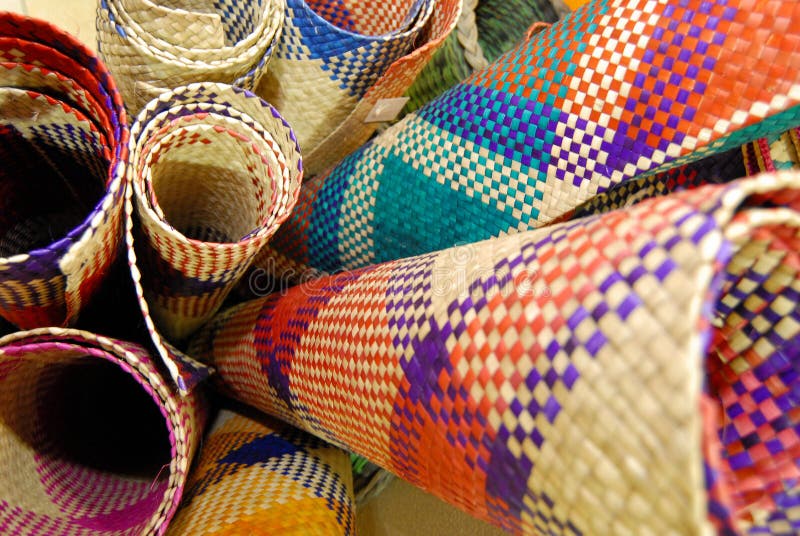 Screw pine craft not only promotes the green practices but also provides employment in an eco-friendly manner. it among many cultural wonders of India that not only displays the power of craftsmanship but also promoting judicious use of resources.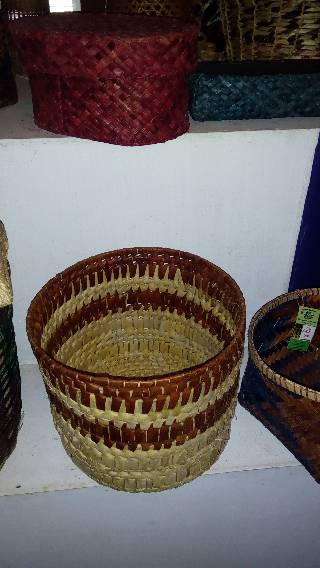 A few YouTube videos on screw pine craft of Thrissur :
"A country remains poor in wealth both materially and intellectually if it doesnot develop its handicrafts and its handicrafts & handloom industries. It lives a lazy parasitic life by importing all the manufactured articles from outside".
~ Mahatma Gandhi