ॐ श्री गणाधिपतये नमः
Source of all Images in this Blog-post : Google Images : 'Google Image Search' will reveal the multiple sources of every single image shared here. For more details, kindly see 'Disclaimer'
Temple Jewellery is a kind of Ethnic Jewellery which is designed in various forms of Gods and Goddesses. Originally, It was made with Gold embedded with different types of precious stones and gems.
Precious stones like, Rubies, Diamonds, Kundan, Pearls, Polkas, Meenakari and Kemp. In order to endow a classic to the jewellery, Precious and Semi Precious Stones are used in both cut and uncut form.
Now a days they are also available made in different metals also like silver, copper, bronze etc. which can be lighter for the pockets. The design of these jewellery itself makes the look so magnificent that it can even go with an understated outfit.
Embedded with North Indian stones like polki or vilandi or even some types of stones like Emerald or Ruby etc. Temple jewellery symbolises South India.
It is a very intricately designed jewellery resembling heavily ornamented pillars and rich sculpted walls of many South Indian Temple especially, Thanjavur.
Origin of Temple Jewellery:
Temple Jewellery had originated in 9th century, during Chola Dynasty. As the names suggests, it was used as embellishments on Gods and Goddesses in Temples.
The base metal used to make this jewellery is Gold. It is crafted in many different designs like, lotus, peacock, gods and goddesses etc. Most of these jewellery are made in Nagercoil, a city in Tamil Nadu.
One thing that makes the Temple Jewellery different from others is the religious sentiments it carries with it. They are worn in different occasions such as marriages and childbirth. However, this jewellery is used maximum by Indian Classical Dancers and hence is also known as Dance Jewellery.
Types of Temple Jewellery :
Any type of Temple Jewellery whether earrings or necklaces etc gives a regal and a graceful look to the women wearing it. These days they are made available in many different forms depending on the requirements of the users.
Some of them want simpler designs, some heavy, some can afford real gold jewellery and some cannot. Hence, the jewellery manufacturers have made them available for the consumers (women) in simpler form as well as low price (lower than Gold).
Some of the most commended designs in Temple Jewellery are waves, lines, birds, statutes of Gods – Goddesses and Royal Figures. Amongst these figures, the most common motif is Goddess Laxmi sitting on a Lotus.
Temple jewellery design is available from small nose rings to big chunky jewellery including necklaces and chokers, pendants, armbands, waistbands, bracelets, toe rings and rings etc.
The speciality of Temple Jewellery is that they so intrinsically crafted that when worn even with simple outfit it will give you a classy look.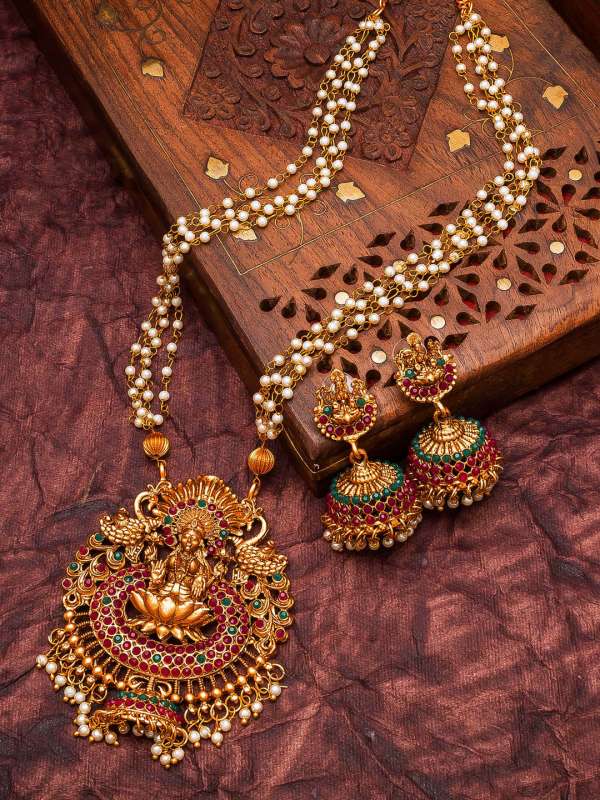 There are two types of Temple Jewellery :
Traditional Function Jewellery : This type of jewellery is worn by women in traditional functions like, baby shower, temple pilgrimages, weddings and other such festivals. This includes heavy necklaces, chokers sets, danglers earrings etc.
Occasional Temple Jewellery : This jewellery is mostly used by women while dancing and this includes armlets, hair accessories, anklets, waist belts etc.
How to wear Temple Jewellery :
When you think of Temple Jewellery, an image of a big necklace or a heavy earrings comes into the mind which you can wear in wedding function or so. But that's really not the case. There are many temple jewellery designs available which are small and can be worn in regular days also.
Hereunder, we have explained how to wear temple jewellery for enhancing different looks.
Wedding Looks :
In a family wedding, wearing a simple saree without heavy border or embroidery with a heavy looking Temple necklace will make your style statement. Make sure if you wear it with some understated outfit because these pieces itself are heavy.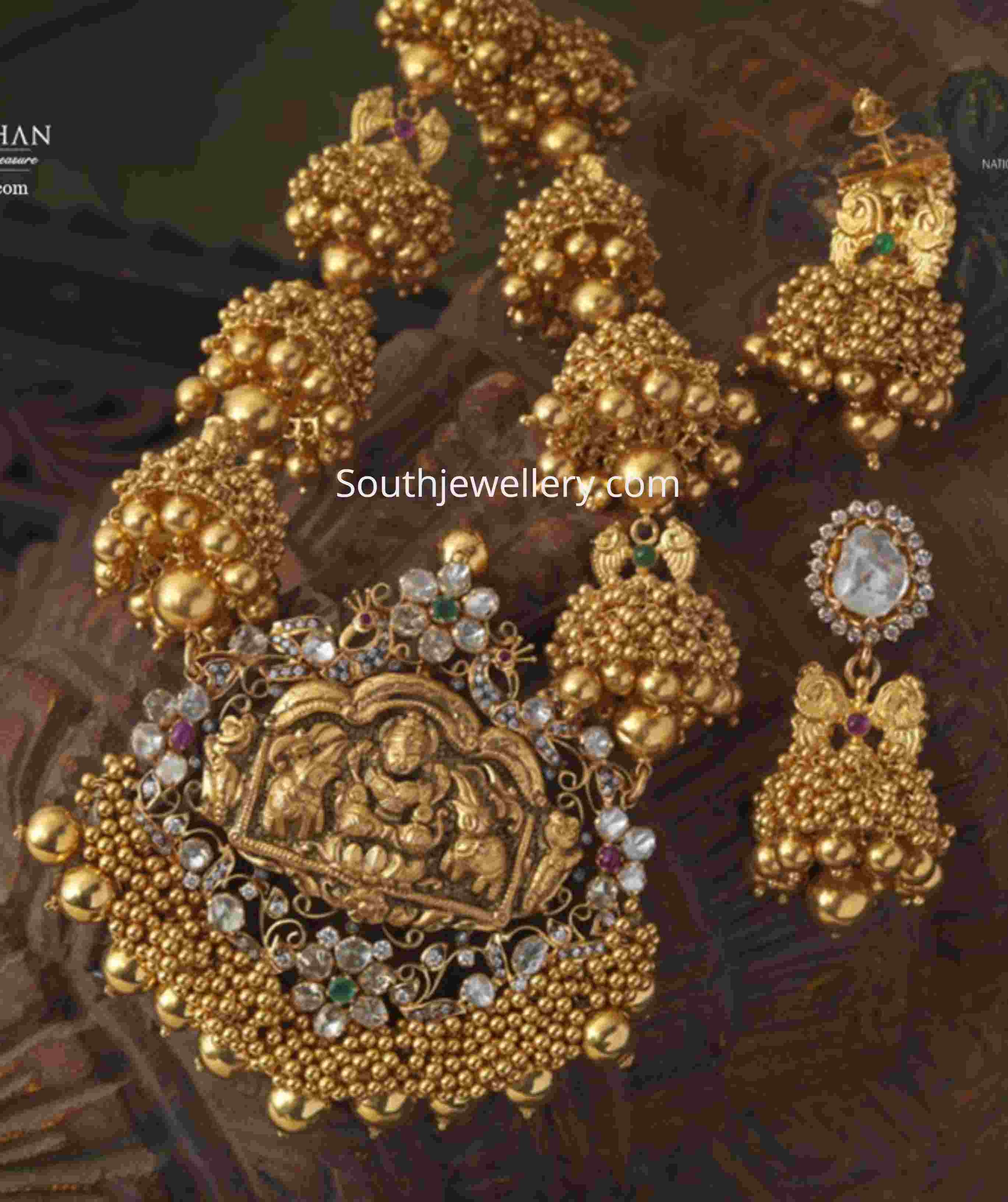 A few YouTube Videos on Nagerkoil Temple Jewellery
Online Shopping
To Buy Temple Jewellery Online Click Here
Click on the below images to buy online
Click on the above images to buy online