ॐ श्री गुरुभ्यो नमः ॐ श्री शिवानन्दाय नमः ॐ श्री चिदानन्दाय नमः ॐ श्री दुर्गायै नमः
Source of all Images in this Blog-post : Google Images : 'Google Image Search' will reveal the multiple sources of every single image shared in this Blog. For more details, kindly see 'Disclaimer'
Odisha State Co-operative Handicrafts Corporation Ltd. (OSCHC Ltd.) was established in the year 1959 mainly to provide marketing support to the handicraft artisans.
Besides it also undertakes developmental activities such as the opening of the raw-materials bank, issue of Photo I. Card, Skill training, Product development programmes, GI Registration, etc. apart from organizing exhibitions at strategic locations.
OSCHC Ltd. has tied-up with reputed e-commerce companies like Snapdeal, Flipcart, and Indiamart for online marketing of handicrafts of Odisha.
There are 95 employees working in the Corporation and an O.A.S officer has been appointed as Managing Director and two I.P.Os have also been deployed.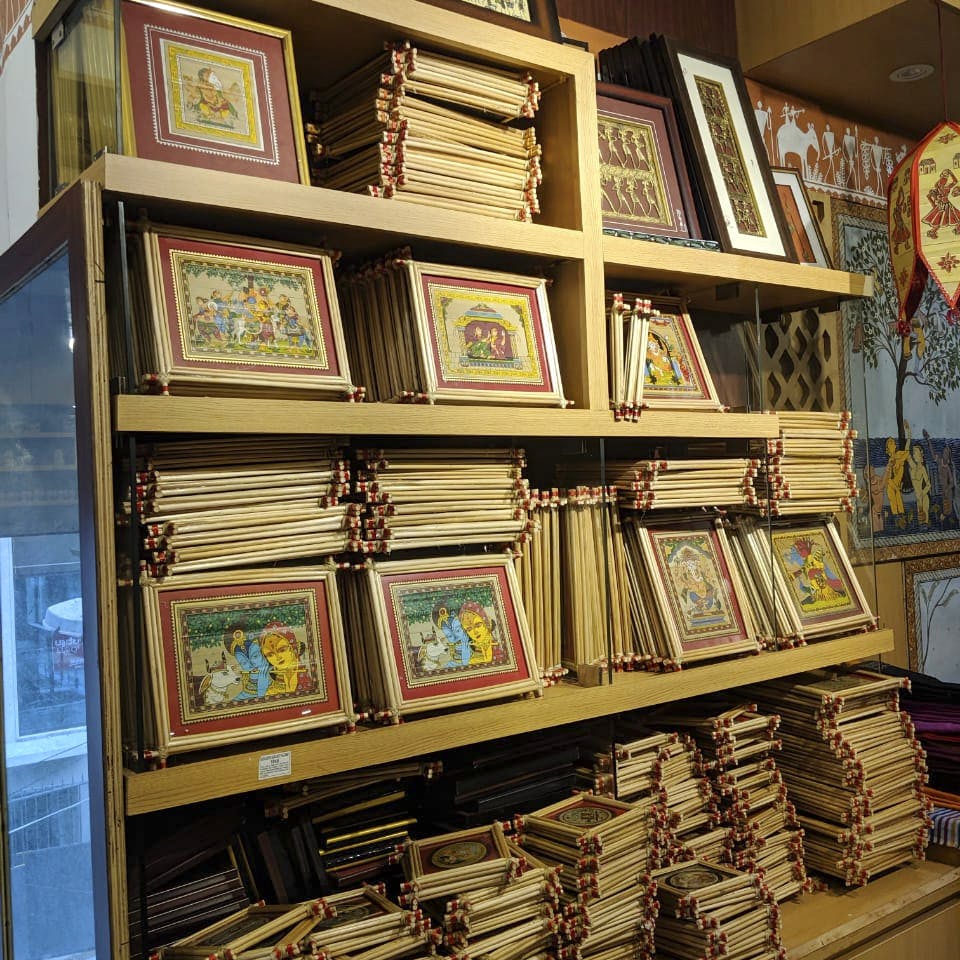 Presently there are 17 Utkalika Branches inside & outside the State at the following places.
| | | | |
| --- | --- | --- | --- |
| | Inside the State | | Outside the State |
| 1 | Utkalika, Market Building, Unit-2, Bhubaneswar | 1 | Utkalika, B.K.S. Marg, New Delhi |
| 2 | Utkalika, Jail Road, Cuttack | 2 | Utkalika, Forgussion College Road, Pune. |
| 3 | Utkalika, Sea Beach Road, Puri – 1. | 3 | Utkalika, Shop No. 1, Odisha Bhawan, Vasi, Navi Mumbai |
| 4 | Utkalika, Debottar Market Complex, Jeypore, Koraput | 4 | Utkalika, Residence Road, Bangalore – 25 |
| 5 | Utka;ika, V.S.S. Marg, Sambalpur | 5 | Utkalika, Shaifabad, Hyderabad-4. |
| 6 | Utkalika, Sector-5, Rourkela-2. | 6 | Utkalika, C.I.T. Market Complex, Garhiahat Road, Kolkata-68 |
| 7 | Utkalika, Pipli Main Road, Pipli | | |
| 8 | Utkalika, Biju Patnaik International Airport, Bhubaneswar | | |
| 9 | Utkalika, Near Bus Stand, Angul | | |
| 10 | Utkalika, Redcross Bhawan, Sambalpur | | |
| 11 | Utkalika, Biju Patnaik International Airport (Terminal-II), Bhubaneswar | | |
Address of Uthkalika Showrooms
The Odisha State Cooperative Handicrafts Corporation Ltd. has been branded as Utkalika (with reference to the state being called Utkal in ancient times).
Odisha is known for its fine lineage in handicrafts over the centuries. The exemplary applique work (traditional patchwork art) in the small town of Pipli is world famous. Wall hangings, lamp shades, purses and garden umbrellas are the most sought after items.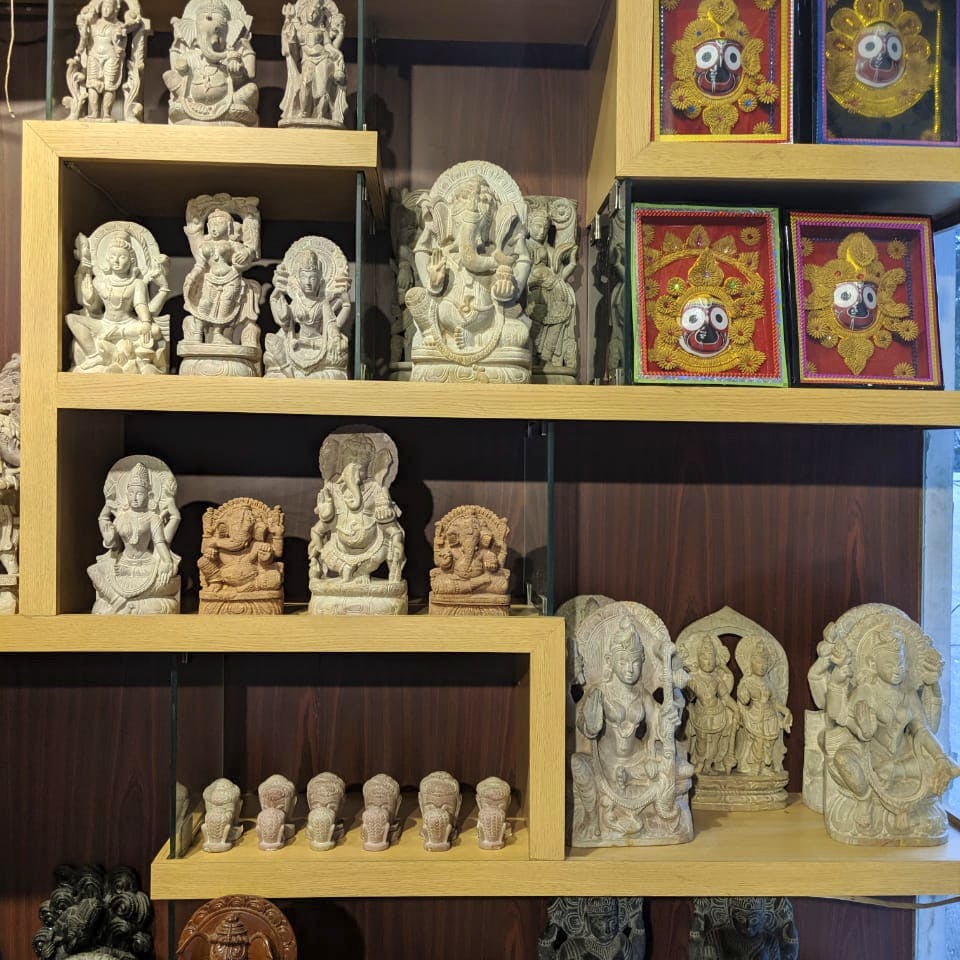 Other handicraft works available at Utkalika are dhokra (brass metal items), woodcrafts, horn craft, pattachitra, terracotta items, tribal jewellery and palm leaf engravings.
Silver filigree is a 15th century art of erstwhile Persian countries and is practiced in Cuttack. This intricate process is used to design brilliant pieces of jewellery. It is also used to make decorative idols and religious paraphernalia. Utkalika has a variety of these products at their outlets.
The corporation's objective is to provide sales and marketing support to all handicraft works in the state. They encourage designers to adapt to latest evolving trends and changing customer expectations.
There are two outlets in Bhubaneswar (Market Building and Airport) and another five outlets in the state. Utkalika is also present in Delhi, Kolkata, Mumbai, Pune, Bengaluru and Hyderabad. Almost every drawing room of the state proudly carries an indigenous artefact.
Utkalika, the Odisha state emporium is the authentic place for shopping beautiful handlooms and handicrafts of Odisha made out of bamboo, jute, cane etc.
What Makes Utkalika Awesome :
Located right opposite Nagarjuna on Residency Road in Bangalore ( One of The Government Outlets ), Utkalika – Odisha State Emporium is a must-visit for anyone and everyone.
If you go bonkers over handlooms, especially Ikats and Kotpad cotton, then this is the perfect place for you.
A huge collection of sandstone sculptures will capture your attention on entry, and you'll find colourful, traditionally decorated, Orissa style hand-painted hangings and decor pieces on the shelves.
All the pieces sold here are made by the creative artisans of Odisha.
They stock up on tribal brass statutes, hand-painted Mural paintings and carved wooden dolls of Odisha. Spot bamboo mats with wooden hand painted alphabets, numbers, and animals that can be used as home-decor pieces. The tiny birdie wall hangings are adorable and as do the of cane baskets and boxes in different shapes.
Decorate your walls with cane framed traditional paintings on bamboo in various sizes starting at very affordable prices. They work great as gifting options for anyone who loves handicrafts.
The range of handlooms that they stock here is truly mesmerising. From running materials to Sarees, you can have your pick. The handloom Sarees such as Ikat and Bichitra Puri silk starting at INR 1,300 available in oranges, greens, blues, reds, blacks, and whites.
You can also find wall clocks with Worli paintings, cane lanterns that are intricately hand-painted and small wooden decor pieces that accentuate your space.
Handicrafts are part of Odisha's rich cultural heritage. These are mainly works of art and beauty, designed and shaped by hand with creative imagination of craft-persons from time immortal.
Odisha was once known as UTKAL a synonym to excellence in the field of arts & crafts. Handicraft and Handloom products were the main stay of maritime trade of Kalinga Empire.
Even to-day Odisha handicrafts have a global recognition as objects of great value and beauty. Generations of artisans have worked with superb craftsmanship, innovative techniques and unmatched skill to produce valuable products that carved worldwide identity.
Odisha's precious handicrafts are not merely products; they are an integral part of culture, a long heritage link to our glorious past. Recognition of Odisha's crafts persons at National and International level speaks about the excellence of Odisha's craftsmanship.
129 Master craft persons have got National Award and National Merit Certificate. Three master craft persons have been conferred with Padma award while Shilpi Guru award has been conferred on three reputed craft persons.
Some of the Crafts of Odisha :
Applique Work :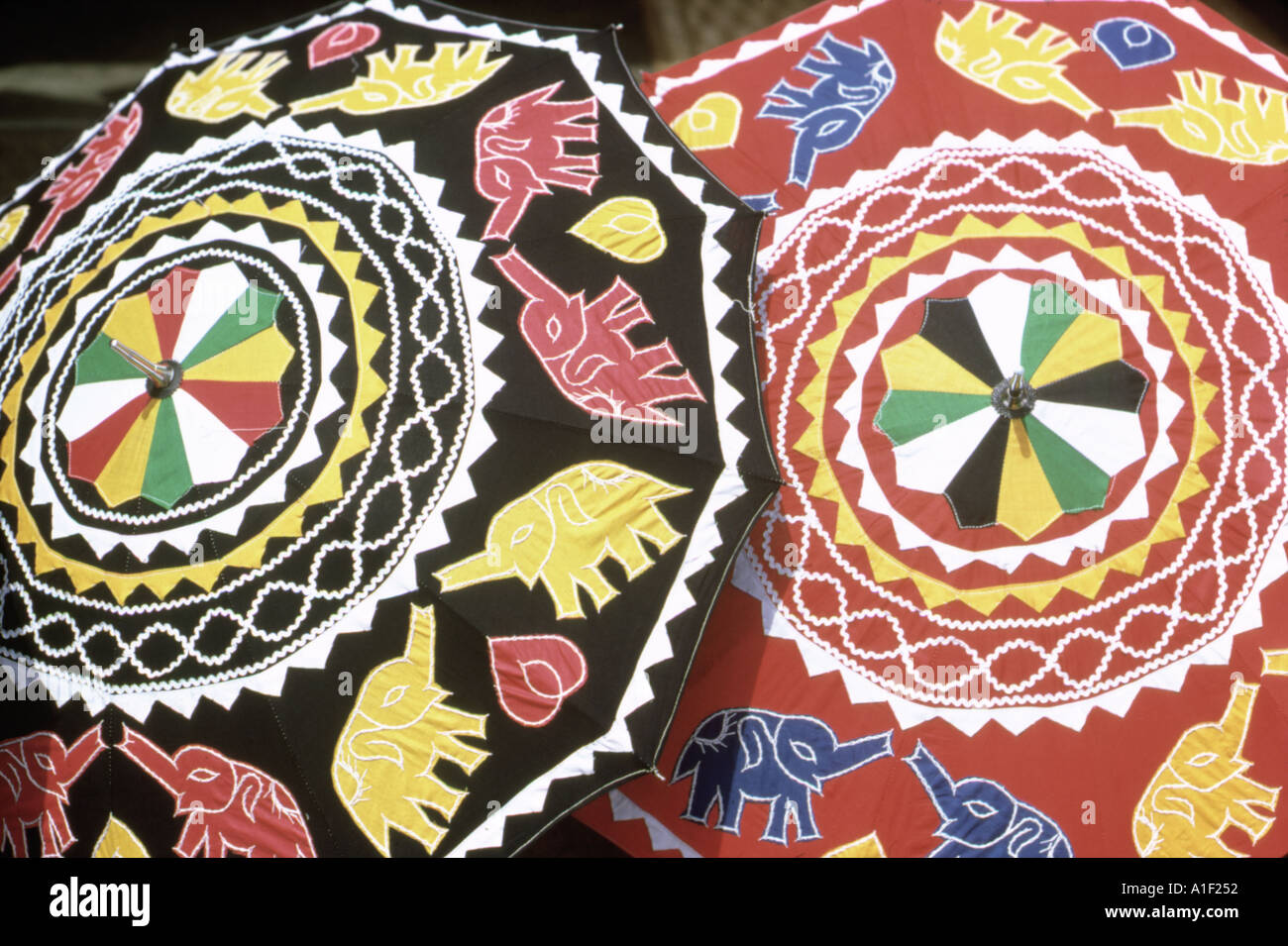 Google Shopping : Buy Applique Work of Odisha Online
Appliqué locally called Chanduakama basically are colored cloth cut and shaped into the forms of birds, animals, flowers, leaves, and other decorative motifs hand stitched onto a piece of cloth.
Popular creations of the crafts are Chandua,Garden umbrella, bags, wallets, lamp shades, cushion covers, file covers etc.
Google Shopping : Buy Pipli Applique Garden Umbrella Online
Pattachitra & Tasar Painting :
Pattachitra is a painting done on handmade canvas (Patti) or tasar cloth and is manifested by rich colourful application, creative motifs, and designs, and portrayal of simple themes, mostly mythological in depiction.
Excellent utility products such as jewellery box, lamp shed, pen stands are developed now a days by mixing pattachtira patterns with other materials such as wood, terracotta, plywood etc. Now a days painted saress grows with its popularity.
Pattachitra Paintings :
Believed to be originated in the early 12th-century, Pattachitra is an icon painting which makes it one of the most popular living art forms in India. People in Odisha can be seen practising it daily.
Google Shopping : Buy Pattachitra Painting Online
Cane and Bamboo
By slivering the bamboo stem into thin and flat strips, woven or interlaced, crafts items such as mats, storage containers, baskets, trays, fruit bowls, lamp shades, candle stands etc are created.
In the same process, Cane is also used for making Sofas, hand bags, file covers, pen stands, containers and decorative items etc.
Palm-leaf Engraving
Palm leaf engravings or "Tala Patra Chitra' or "Pothi, Chitra' is one of traditional method of painting. After processing the palm leafs as per the required size, these are sewn together to form a canvas for tracing the images by a sharp pointed iron tool known as Lekhani.
Black or white ink are used to fill grooves etched on rows of equal-sized panels of palm leaf that are sewn together.
Palm Leaf Paintings :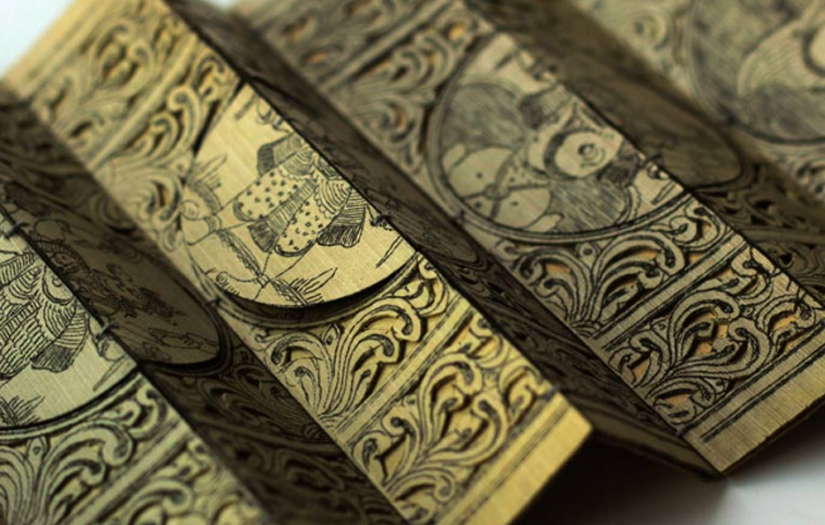 Google Shopping : Buy Palm Leaf Pattachitra Painting Online
From the days when communication was done through writing, the Palm Leaf Painting or locally known as Talapatra Chitra is an ancient form of art in Odisha. This is one of the art forms in the state which are considered sacred.
Horn Work :
The most popular art amongst all is Horn Work. A mystical artwork of Odisha, Horn Work showcases an impressive fashion design. In this art, Horns of Cows and Buffaloes are used to produce utility products like jewelry, ashtray, and comb.
Shopping : Buy Horn Handicrafts of Odisha Online
Papier Mache :
Most of the arts in Odisha have worldwide acclamation and Papier Mache is one of them. The art is practised in almost every region of the state and involves the use of waste cloth, natural fibres, and papers.
Bell Metal And Brass Handicrafts :
Google Shopping : Buy Dhokra Craft of Odisha Online
An important native art coming from the Kansari and Dhokra caste in Odisha, Ball Metal and Brass Handicraft is a popular folk art which produces various pieces of household items and decorations items.
Lacquer Work :
Lacquer Work is one of the famous tribal craft in India which is practised mainly by women. The impressive folk items like bangles, toys, and necklace are made by using this technique of art.
Sand Art :
Odisha excels in creating sculptures from sand. Evidently, Sand Art is one of the worldly-famous arts that resides here in Puri, Odisha. For the fact, the state also hosts an International Sand Art Festival.
Jhoti Chita, Muruja :
A traditional Oriya art which is presented on the floor and walls is Jhoti Chita. Extremely popular in the rural areas, Jhoti is different from line art and involves line art using a white coloured liquid paste of rice or pithau.