ॐ श्री गुरुभ्यो नमः ॐ श्री शिवानन्दाय नमः ॐ श्री चिदानन्दाय नमःॐ श्री दुर्गायै नमः
Source of all Images in this Blog-post : Google Images : 'Google Image Search' will reveal the multiple sources of every single image shared here. For more details, kindly see 'Disclaimer'
Leather embroidery is as the name suggests embroidery done on leather products. The animal that is most found in Rajasthan is Camel and therefore the leather used for making the leather products is obtained from camel.
Mojdis are a type of shoes made from leather and they have colourful embroidery done over them. Moments of sewing best.
Embroidered leather bags are also beautiful and can be found easily in local markets.Other leather products with embroidery done on them are bracelets, hats, jewellery boxes, belts, wallets etc. These products work great with western wears too and can also be excellent souvenir gifts to take. Good crafts for good moments.
Mochi Bharat or leather embroidery is a style of embroidery that is common to most parts of this region. Mochi Bharat was actually developed to ornament leather objects and is usually created on shoes, animal saddles and trappings. In addition, gold and silver zari is greatly employed on accessories like leather belts, bags and wallets.
Usually, soft leather is used in this type of Rajasthani embroidery as it is easy to work on. Rajasthani women are often seen in a ghagra and choli ornamented with this style of embroidery. Mochi Bharat is employed through fine chain stitch.
Above all, the craftsmen must be accorded their due recognition and respect for preserving these rare and precious crafts of Mochi bharat and keeping alive our rich and colourful heritage.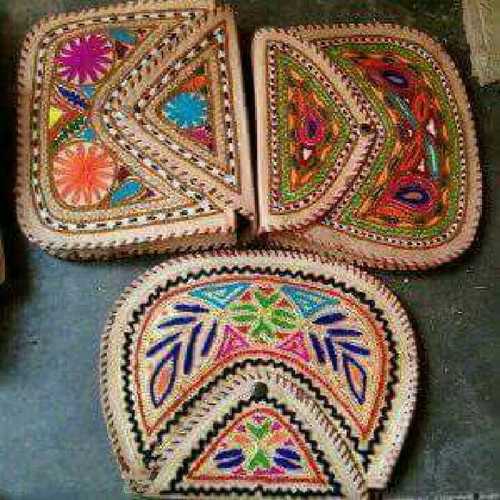 There are several communities in Rajasthan involved in making products from leather, with each dealing with a separate process.
The people who flay the animals are distinct from the tanners who use a process locally known as rangna.
The makers of saddle products are jingarhs and the makers of musical instruments are debgars. In the hands of the artisan, the hide is transformed with skill and dexterity into a range of different and unusual products.
Another leather product is the knucklepad on which miniature landscapes and festive scenes are embroidered like in Rajput paintings.
The details of the embroidery are carefully worked out, especially of group compositions, and the scenes depicted include human figures, along with floral and bird designs.
Bikaner and Jaisalmer are known for ornately decorated leather saddles for horses and camels. Leather shields prepared with lacquer colour paint are made in Shahpura, though these are not used any more.
Leather bookbinding in Alwar is of extremely good quality. Designs are painted on the leather after they are outlined with a brass block. The covers have borders either in various shades or on a gold coloured base.
One of the most popular leather articles of Rajasthan is the Mojadi or Jutti – an attractive footwear item. The leather is embroidered, punched, studded and stitched in various eye catching designs. The best known centres of traditional footwear are Jaipur and Jodhpur.
Kupi – a bottle made of camel hide to keep oil or 'attar' (perfume) is a speciality of Bikaner. Leather is also an essential raw material for making musical instruments such as the tabla, dhol, kamaycha. These instruments are used by Rajasthani folk musicians.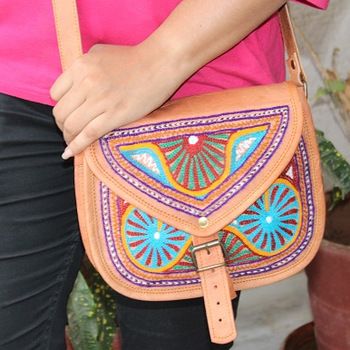 The world fame jootis are made from leather having artistically embroidered uppers. These are incredibly comfortable and sturdy. Jaipur, Jodhpur, Barmer and Jaisalmer are traditionally known for this footwear. Bikaner is known for its painted lamp shades, shields and vases made from camel hide.
Designer hand-bags, purses, belts, hats, stools and collapsible chairs with graphic embroideries made from leather at Tilonia village near Ajmer is also example of good craft man ship.