ॐ श्री गुरुभ्यो नमः ॐ श्री शिवानन्दाय नमः ॐ श्री चिदानन्दाय नमःॐ श्री दुर्गायै नमः
Source of all Images in this Blog-post : Google Images : 'Google Image Search' will reveal the multiple sources of every single image shared here. For more details, kindly see 'Disclaimer'
53rd IHGF Delhi Fair 2022 Fair : Days: 30th March – 3rd April, 2022
Product Categories at IHGF Delhi Fair 2022
IHGF Delhi Fair Organizer – EPCH
A few YouTube Videos on Indian Handicrafts & Gifts Fair, Delhi, organised by EPCH ( Export Promotion Council for Handicrafts)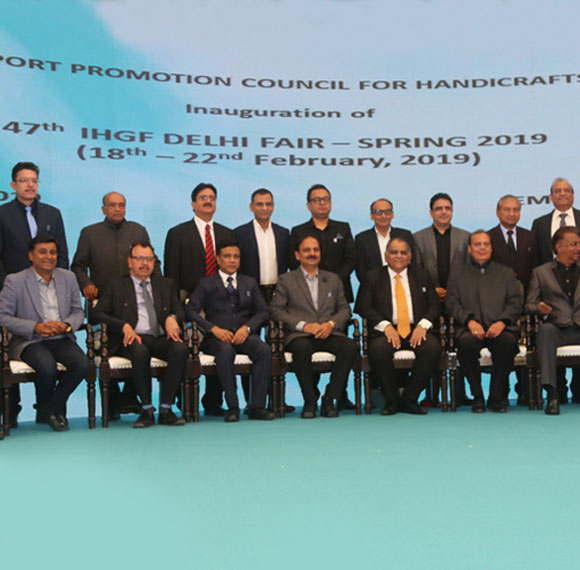 Indian Handicrafts & Gifts Fair-IHGF is amongst Asia's largest gifts & handicrafts fair, held biannually (Spring & Autumn edition) and is organised by Export Promotion Council for Handicrafts (EPCH).
IHGF Delhi Fair is organized twice every year in Spring and Autumn editions, by the Export Promotion Council for Handicrafts (EPCH).
EPCH is the apex organization representing handicraft manufacturers & exporters in India.
EPCH is having very strong supplier network of manufacturer exporters of Home, Lifestyle, Fashion, Textiles and Furniture. Buyers may contact them for their requirements.
EPCH facilitates its 10,000+ members to customize and offer unique styles and quality products to the global sourcing community.
Beyond providing unparalleled business platforms to buyers & sellers, EPCH also provides comprehensive information about the sector to international buyers.
It ensures optimal interface between the Indian handicrafts industry and international buyers, facilitating harmonious business.
EPCH has its Headquarters in New Delhi, and regional/representative offices in Mumbai, Kolkata, Bangalore, Moradabad, Jodhpur, Jaipur, Saharanpur, Agra, Guwahati and Narsapur.
EPCH, India's premier export promotion organisation with 10000 member exporters is engaged in trade promotion of handicrafts exports from India.
IHGF Fair Autumn 2021 has been the hallmark for growth of the Indian handicrafts sector for over 27 years.
The most significant and distinct sourcing platform in Asia – (IHGF Delhi Fair ), now gets bigger & bolder.
It brings you much more of everything – more space, more exhibitors, more sectors, more enhanced facilities, more days and of course, bringing you a thoughtfully re-conceptualized & renewed IHGF Delhi Fair with 14 clear product categories in enriched display spaces.
Press & Media Coverage of the Event
The five power packed days with over 3,000 exhibitors, spread over 1,97,000 sq. Metres area, brings you an entire range of Home, Lifestyle & fashion, with traditional artistic finish in perfect harmony with modern designs & contemporary colours.
IHGF Delhi Fair Autumn 2021 is a distinctive business platform for importers, wholesalers, distributors, retailers, fashion designers, potential franchises, mail order companies and a few more.
This is to source an unparalleled variety of handicrafts, gifts & lifestyle products, from a cross section of handmade manufacturers from all over India.
IHGF has carved out its presence in the world market, by offering huge sourcing opportunities to international buyers, agents etc. IHGF Delhi Fair has now become Asia's 'One Stop Sourcing Event', since its inception in 1994 while providing extended business platform to small & medium exporters.
The hallmark of a successful trade event is its ability to bring a platform wherein markets and people come together in an efficient and highly professional manner.
IHGF's organizers – EPCH, strives to better this ability with each successive edition and IHGF Delhi Fair is a bolder step in this direction.
Fair Introduction
Fair Statistics
Total Area – 1,97,000 sq. mts.
No.of Participants – 2,900+ Exporters from all over India
No. of Visitors – 5,000 from all over the World
Press & Media Coverage of the Event

Welcome to an exciting journey of discovery at IHGF – Asia's largest exposition of gifts and handicrafts covering a mammoth 1,97,000 sq. mts. exhibition area, giving you a really big opportunity to source from staggering 2,900+ manufacturers & exporters loaded with top quality merchandise.
With an impressive track record of 51 successful shows offering top quality merchandising opportunities, the Indian Handicrafts & Gifts Fair has increased in scale, grown in participation, excelled in show management and has become even more attractive as a sourcing destination.
IHGF Delhi Fair is professionally organised and efficiently run show located at India Expo Centre & Mart.
This is one of the latest & new exhibition complex at New Delhi- Greater Noida Express way, Greater Noida. It will take about 45 minutes from center of Delhi i.e Conaught Place in the heart of India's capital city, New Delhi.
Here you will find an international buyer's lounge, full communication and transport facilities to make your business discovery enjoyable as well as successful.
Indian Handicrafts and Gifts Fair is brought to you by Export Promotion Council for Handicrafts. It provides comprehensive information to foreign buyers on the entire range of handicrafts of India and liaisons between Indian handicrafts exporters and foreign buyers.
An unmatched collection of Handicrafts & Gifts
IHGF showcase the most extensive range of handcrafted products ever put on display. The fair will feature Giftware, Kitchenware, Decoratives, Furniture, Furnishings, Tableware Garden Articles, Houseware and Fashion Accessories.
The collection of products at the fair will reflect a rich legacy of traditional Indian workmanship blended into a wealth of new products and innovative designs.
53rd IHGF Delhi Fair 2022 Fair : Days: 30th March – 3rd April, 2022
Product Categories at IHGF Delhi Fair 2022
A few YouTube Videos on Indian Handicrafts & Gifts Fair, Delhi, organised by EPCH ( Export Promotion Council for Handicrafts)