ॐ श्री गुरुभ्यो नमः ॐ श्री शिवानन्दाय नमः ॐ श्री चिदानन्दाय नमःॐ श्री दुर्गायै नमः
Source of all Images in this Blog-post : Google Images : 'Google Image Search' will reveal the multiple sources of every single image shared here. For more details, kindly see 'Disclaimer'
Manipur is famous for its special fabrics like Moiraingphee, Leirum, Lasingphee and Phanek.
Tribal textiles are woven on a loin-loom, a type of back-strap loom commonly used by hill people.
The warp of manageable length and breadth is prepared and fastened at one end generally to the wall of a house or to two fixed poles while the other is tied to the waist of the weaver with a cotton or leather belt. Sometimes the belt is woven out of cane or bamboo.
Weaving is universal and every girl knows how to weave. The loom forms part of her dowry. Weaving is done purely for personal use, by the women, while highly organized commercial weaving is done by men.
There is an aura of religion and romance around cotton-weaving. Each process and design is highlighted by a legend and connected with special functions, dances, and ceremonies.
Ningthou Phee and Akoibi are based on snake motifs and the design is worn by royalty. These designs are mostly found on the phaneks.
Tradition has it that when a weaver used to sit down to weave the Ningthou Phee, the royal design, a gun salute would be fired in honor.
A black shawl with thick, bold embroidered animal motifs is called the Angami Naga (Sami Lami Phee). It was given to brave and distinguished warriors by the royalty, in recognition of their prowess and ability.
Phaneks are woman's lungies and the Morang Phee is the traditional Manipuri Sari with a temple border.
Likli or bottle designs resembling a loom-accessory and Lasing Phee (a quilted design to keep warm in winter as Manipur has no wool) are popular.
Shamilami is a combination of weaving and embroidery once considered a status symbol.
The Maibung is said to be a copy of a natural design, resembling the grains of wood as revealed when it is chopped clean.
Hijamayak, which is a boat form, has a restricted use as it is associated with death ceremonies. Horses, swords, and spears for use in rituals form motifs of typical borders in saris.
The patterns in use here are typical of the region. Bold colours and geometrical patterns are in evidence in most of their textiles.
The Lasingphee (quilted cotton material) is produced in Manipur and used as a covering in winter. Colours are obtained from natural sources and the juice of wild indigo is used as a black or dark blue dye.
A bark from the plains is used for a red shade, and green, yellow, and orange are obtained from the barks of jungle trees.
A characteristic feature of the Moirangphi Chaddar is the triangular form along the border. Phi means cloth in Meithei and Moirang is the name of a place in Manipur.
Morangfi Saris woven in white or soft colours carry the Mandir Shikhara (temple top) on the border with dotted patterns on the body. There is a belief that this pattern was created by the Goddess Morangfi herself.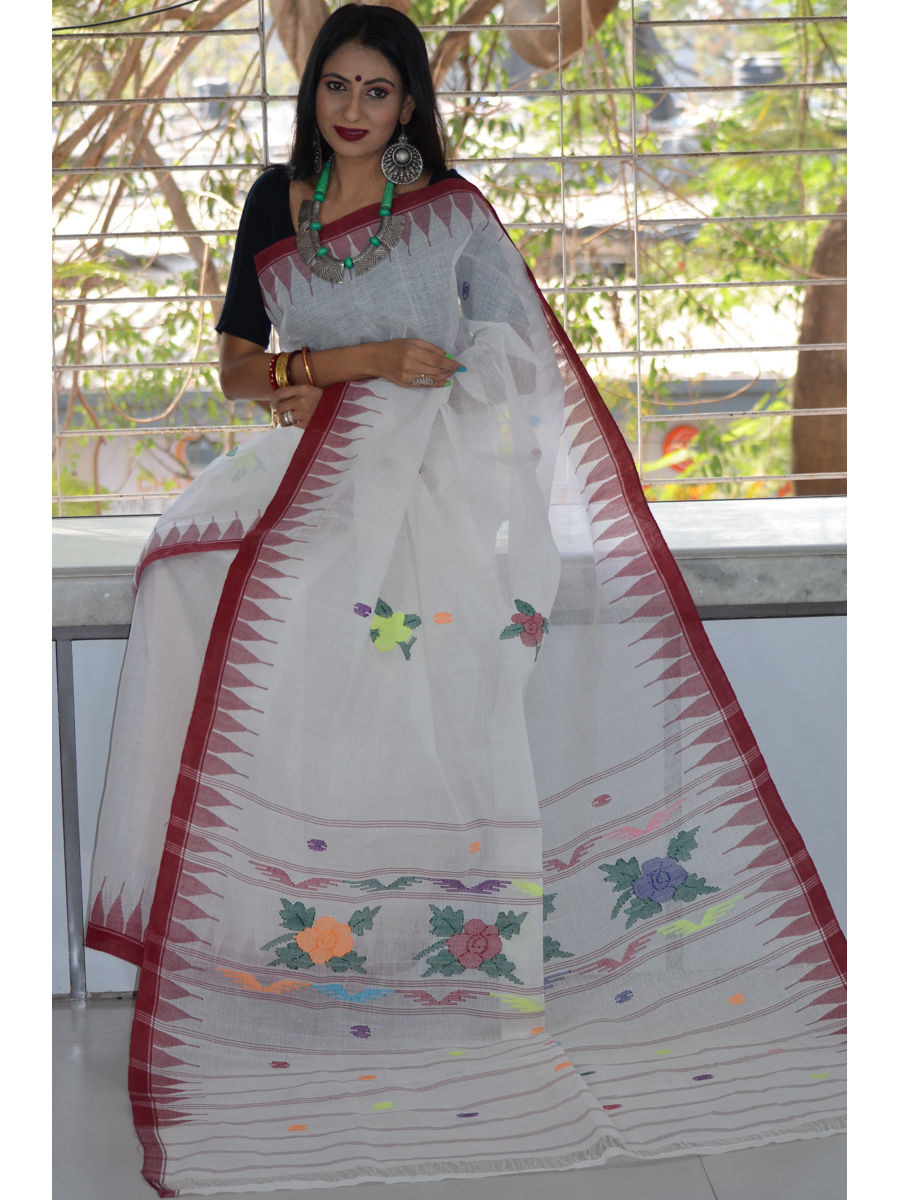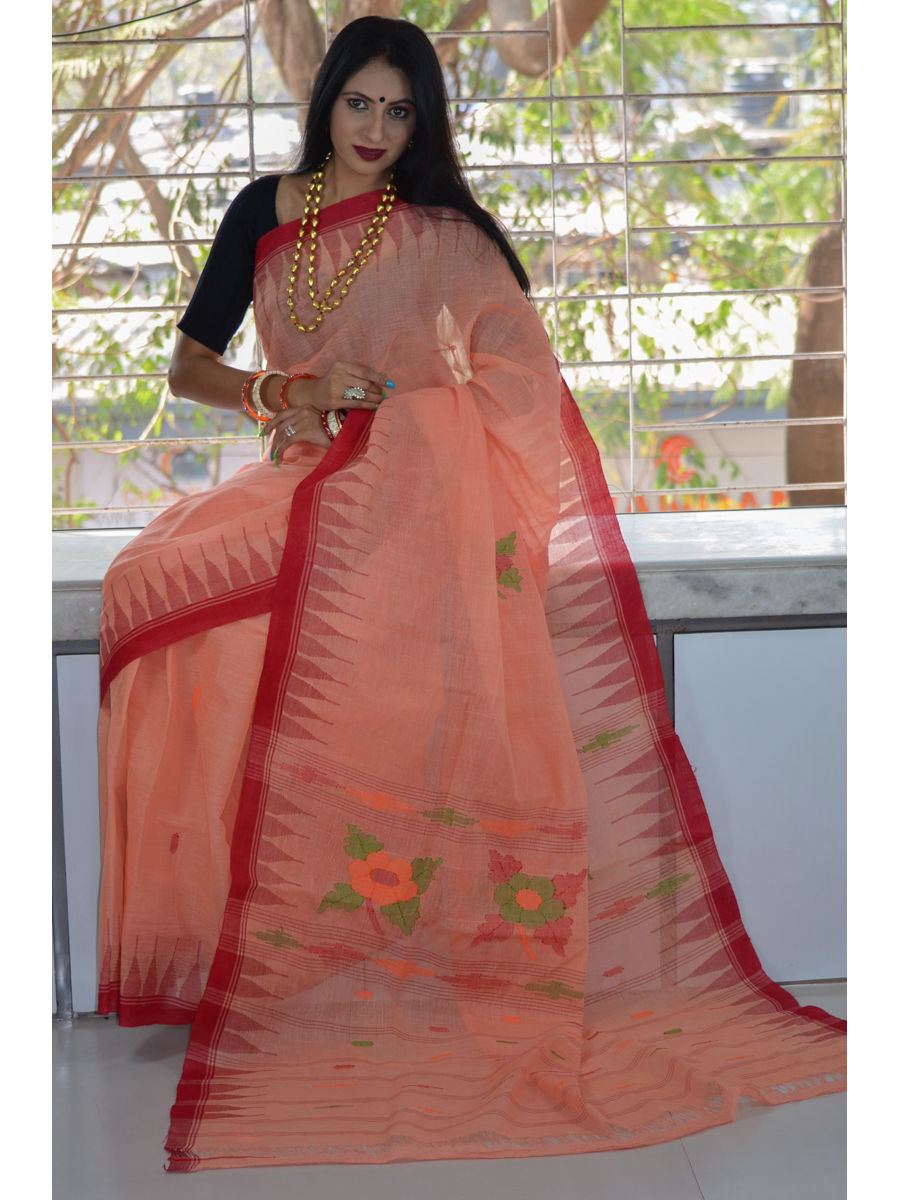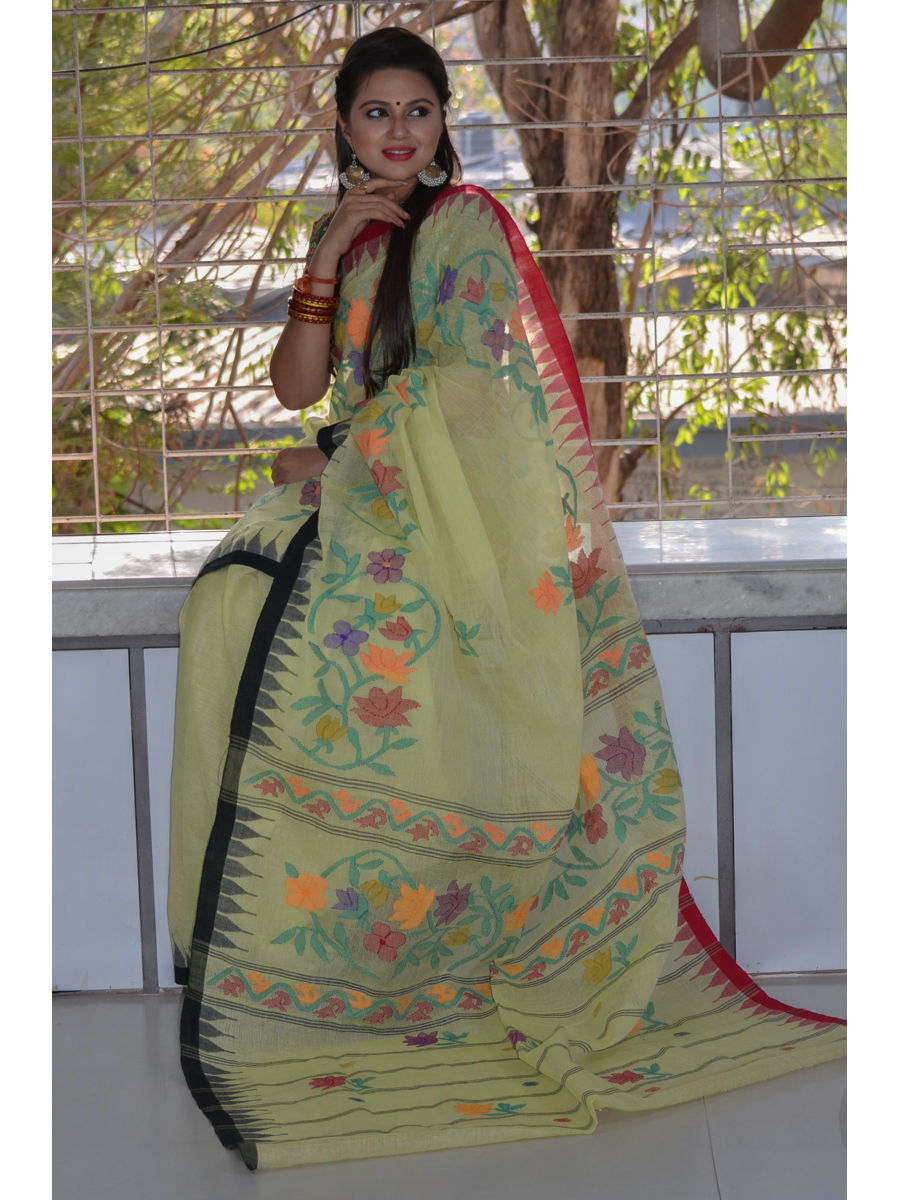 Manipur is said to be the original home of the mulberry silk worm, and it is said that it went from there to China. However, most silk-weaving is Eri weaving. The use of Tassar is also being encouraged.