ॐ श्री गुरुभ्यो नमः ॐ श्री शिवानन्दाय नमः ॐ श्री चिदानन्दाय नमःॐ श्री दुर्गायै नमः
Source of all Images in this Blog-post : Google Images : 'Google Image Search' will reveal the multiple sources of every single image shared here. For more details, kindly see 'Disclaimer'
A Tangaliya Shawl is a handwoven, GI protected shawl and textile made by the Dangasia community in Gujarat, India.
The 700-year-old indigenous craft is native to the Surendranagar district, of Saurashtra-region of the state.
Traditional variations like Ramraj, Charmalia, Dhunslu, and Lobdi are woven in village clusters of Dedara, Vastadi, Godavari and Vadla in the district.
The textile is usually used as shawl and wraparound skirt by women of the Bharwad shepherd community of the Wankaner, Amreli, Dehgam, Surendranagar,Joravarnagar, Botad,
Technique
The shawls are woven in pit looms at homes and knot a contrast color thread with the warp, which are woven into the textile to create the effect of raised dots, which have become the signature style of the textile.
Besides dots, several, geometric patterns like circles, straight lines, hyperbolic or parabolic designs etc.are also created.
GI status for Tangaliya
It is the story of the revival of a dying indigenous craft that evolved in Saurashtra around 700 years ago.
The Tangaliya shawl — which uses a unique weaving technique and was almost on the verge of extinction — has been given GI (Geographical Indications) recognition by the Central government.
It is among the few handicrafts of Gujarat — others being Sankheda furniture, agate of Cambay, and Kutch embroidery — to get this recognition.
Produced mainly by the Dangasia community for their own use, this craft remained unnoticed for years. Lack of exposure further pushed poor artisans into oblivion.
To support them, Tangaliya Hastkala Association was formed with the help of National Institute of Fashion Technology (NIFT), Gandhinagar in 2007.
This association has a membership of 226 artisans spread over five villages.
It is a unique weaving technique comprising motifs made of 'Danas beads.
Read more at:
http://timesofindia.indiatimes.com/articleshow/5234269.cms?utm_source=contentofinterest&utm_medium=text&utm_campaign=cppst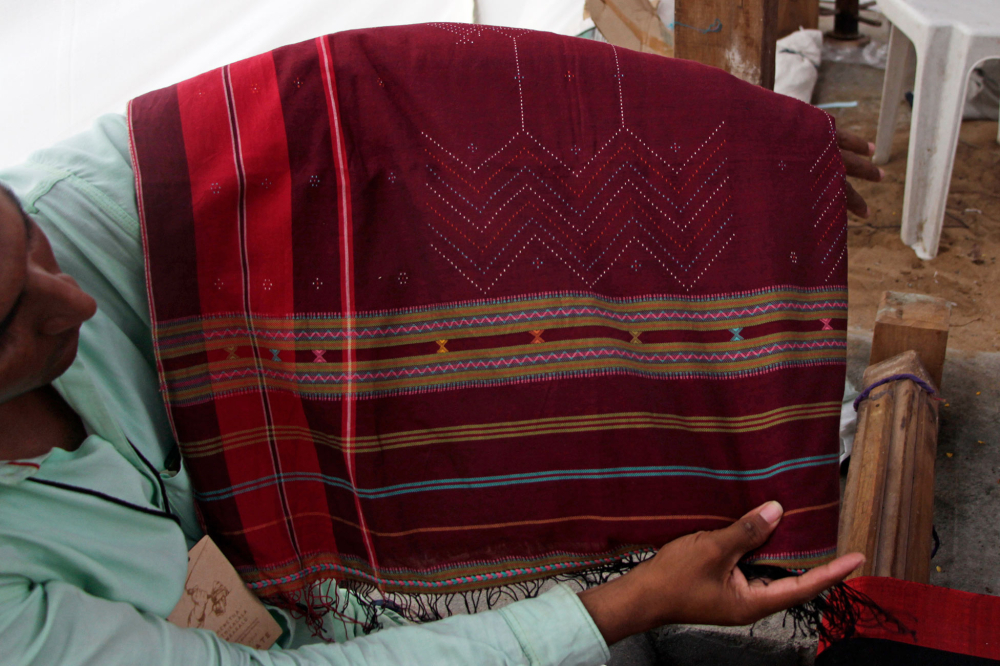 "A country remains poor in wealth both materially and intellectually if it doesnot develop its handicrafts and its handicrafts & handloom industries. It lives a lazy parasitic life by importing all the manufactured articles from outside".
~ Mahatma Gandhi