ॐ श्री गुरुभ्यो नमः ॐ श्री शिवानन्दाय नमः ॐ श्री चिदानन्दाय नमःॐ श्री दुर्गायै नमः
Source of all Images in this Blog-post : Google Images : 'Google Image Search' will reveal the multiple sources of every single image shared here. For more details, kindly see 'Disclaimer'
To learn more about these prints explore Gaatha Handicrafts
One of the many claims to fame of the city of Jaipur in Rajasthan, is the abundance of ethnic textiles that you can find all over the city, especially the hand-block printed textiles.
Every tourist from abroad visiting India knows that India is the place to find large amounts of quality fabric at very affordable price. One is not likely to leave Jaipur without an appreciation for the tedious and beautiful art-work of the local hand block-printed textiles.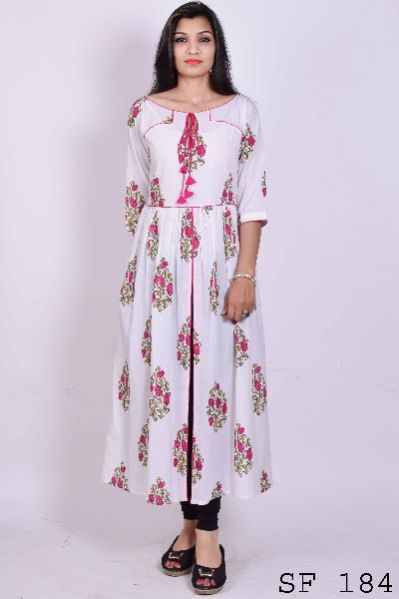 The art-work requires intense precision. Once done, the mistakes can not be erased. But the amazing thing is — these artisans don't really make mistakes; at least not major ones.
And the very subtle mistakes that they make, are barely noticeable, beautifully reminding us of the skilled labor and artistry that goes into each piece of fabric.
In fact, hand-block printing is a very skilled profession that is often passed on from generation to generation in the state of Rajasthan, and when you get close and personal with these brilliant artisans, you are left spell bound.
Sanganer — about 30 minutes from downtown Jaipur — is where most of the block-printers' wholesale shops are located. It's a great place to buy both small home stuff for individuals, and also large scale customised business orders. You'll find places all around New Sanganer Road, selling hand block printed fabrics in a very big way.
Want to buy some of these cotton hand block printed bedsheets of Rajasthan? Care to give global recognition to the brilliant craftsmen and weavers of India? Here are a few hand block printed bedsheets posted right underneath, for you to choose from, for your bedroom.
Have a look at these amazing images of hand block printed textiles, and the artisans at work, of Rajasthan, collected from multifarious sources, with heartiest thanks to the brilliant craftsmen and dedicated photographers of these creations :
Buy Jaipuri Block-Print Bedspreads & Bedsheets from Amazon India by clicking here
The traditional process of hand block printing on textiles, with rich natural colors, has been practiced in the state of Rajasthan in India for around 500 years.
Block printing was introduced to the Jaipur region of Rajasthan by the Chhipa community. This community was originally located in Bagru village, an area now famous for its vegetable dye and mud resist (dabu) block prints.
The art of block printing has been passed down for generations within families and communities, and has branched out in recent decades to other regions of Rajasthan such as Sanganer, just South of Jaipur.
In traditional Bagru style of block printing, the 'recipes' for the traditional plant-based dyes are developed within each family and has been kept alive from generation to generation.
The colors are dependent on the quality of the plants, the water, and the skill and knowledge of the printing masters.
Buy Jaipuri Block-Print Bedspreads & Bedsheets from Amazon India by clicking here
Hand block printing is the earliest, simplest and slowest of all printing methods. A design is drawn on, or transferred to, prepared wooden blocks. A separate block is required for each distinct colour in the design.
A blockcutter carves out the wood around the heavier masses first, leaving the finer and more delicate work until the end, so as to avoid any risk of injuring it when the coarser parts are cut.
When finished, the block has the appearance of a flat relief carving, with the design standing out. Fine details, difficult to cut in wood, are built up in strips of brass or copper, which is bent to shape and driven edgewise into the flat surface of the block.
Buy Jaipuri Block-Print Bedspreads & Bedsheets from Amazon India by clicking here
Buy Jaipuri Block-Print Bedspreads & Bedsheets from Amazon India by clicking hereJaipur Hand Block Print Kurtis for Women on Amazon USA
Buy Jaipuri Block-Print Bedspreads & Bedsheets from Amazon India by clicking here