ॐ श्री गुरुभ्यो नमः ॐ श्री शिवानन्दाय नमः ॐ श्री चिदानन्दाय नमःॐ श्री दुर्गायै नमः
Source of all Images in this Blog-post : Google Images : 'Google Image Search' will reveal the multiple sources of every single image shared here. For more details, kindly see 'Disclaimer'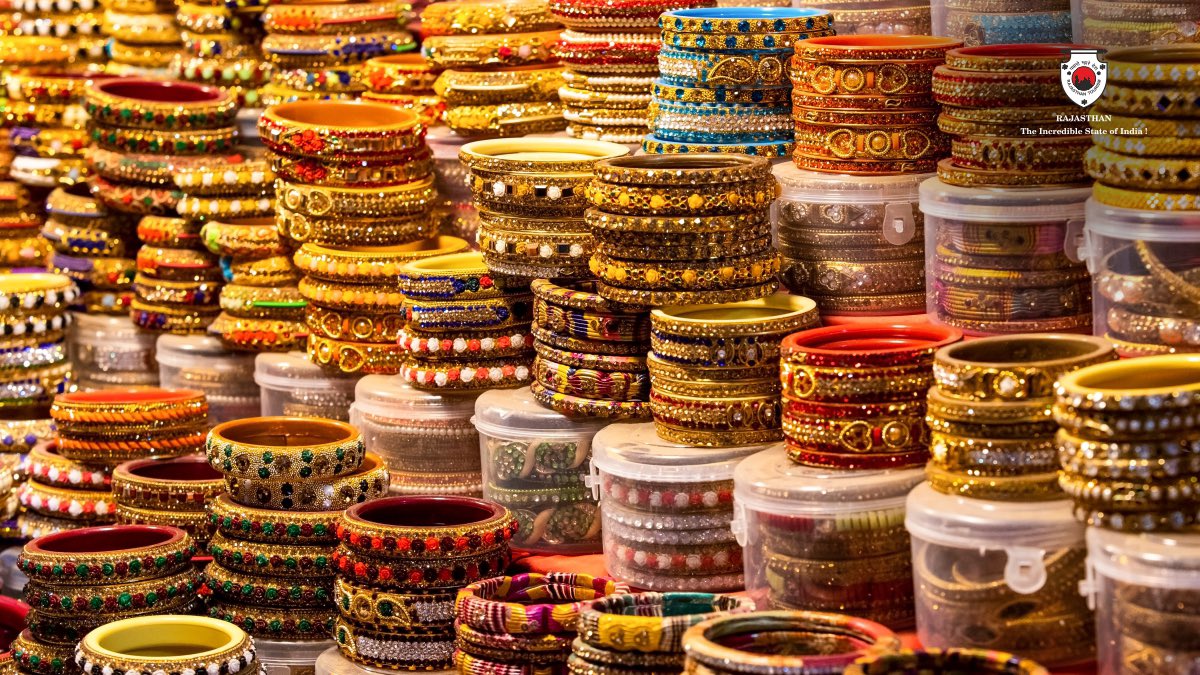 The famous lac bangles of Rajasthan are as old as the city itself. In the year 1727 CE, the then ruler Maharaja Sawai Jai Singh II of Jaipur, was very keen on making Jaipur a centre for craftsmen and artisans.
He therefore invited lac bangle craftsmen from Rajasthan, Uttar Pradesh and Madhya Pradesh.
Lac is the natural resin secreted by a tiny insect collected from trees. The skilled craftsmen then transform this into lac coils to create attractive bangles out it.
Lac bangles of Jaipur Rajasthan – An article by Bibhu Dutta Baral in D'Source
Bangles hold a very significant place in the life of Indian women. Bangles are made of gold, silver and many other metal alloys.
Lac bangles produced in Jaipur are considered auspicious and is compulsory for newly married women to wear these bangles in Jaipur in Rajasthan.
These bangles are made in amazing varieties and are decorated with lovely stones, colours and metal embedding etc.
In India a new bride is distinguished by her bangles and it is considered a doom to see a women with empty wrist after her marriage.
Bangles are known by many different names across the country. There is huge demand for lac bangles mostly during festivals and other special occasions in India.
Even foreign nationals have started adorning these Lac bangles and are even exporting these bangles to other foreign countries after learning the craft.
Many tourists from foreign countries come to India in search of learning the craft of Lac Bangle making, stay in India for few months learning & practicing this craft, and after learning go back to their respective countries to produce lac bangles.
Jaipur is recognized as a chief centre of ethnic arts and crafts in India. The pink city Jaipur in Rajasthan was founded in the year 1727 by the King of Amer, Jai Singh II.
Jaipur has a wide range of handicrafts depicting history and stories. The pink city is also prominent for its Lac Bangles which is easily available in Jaipur in multifarious designs.
Lac Bangles are in high demand in India as they are considered as a lucky symbol for married women.
Lac is the natural resin secreted by a tiny insect collected from trees and is further processed by traditional craftsmen to create Lac bangles.
Lac Shellacs are made and sold in wholesale shops for the craftsmen. Shellac is the developed form of lac which is acquired from seed lac in the form of thin flakes.
This traditional handicraft practiced in Jaipur, Rajasthan in India is prepared by ancient methods passed down by earlier generations.
Babu Khan who is age 61 years is a resident of Maniharon ka Rasta in Jaipur has been performing this craft from ages. Lac bangle making was taught to him by his father.
This craft has been in their family from seven generations and though the designs have developed through time, the method of making lac bangles remains just the same as earlier.
Maniharon ka Rasta is the area which is famous for hand crafted sparkling Lac bangles, and Babu Khan is widely known for his Lac Bangles in this area.
Babu Khan has his own small shop where he sells different varieties of Lac bangles decorated with stones. He along with his two sons prepares lac Bangles for customers and earns his living through this craft. Babu Khan has also taught this craft to many foreign nationals.