ॐ श्री गुरुभ्यो नमः ॐ श्री शिवानन्दाय नमः ॐ श्री चिदानन्दाय नमःॐ श्री दुर्गायै नमः
Source of all Images in this Blog-post : Google Images : 'Google Image Search' will reveal the multiple sources of every single image shared here. For more details, kindly see 'Disclaimer'
Santhal is one of the most abundantly found tribes in India. A major chunk of this tribe can be found in West Bengal and Jharkhand. Santhal tribe has a rich cultural lineage and immense solidarity.
Its members are basically the devotees of 'Thakurji', the deity they believe created this world. They move to the beats of music, to celebrate the glory of nature, raise a message and offer prayers to the presiding deity of their tribe, through a dance known as Santhal dance.
Glimpses of Santhali Folk Dances through YouTube Videos
The Santhal dance is considered to be one of the best tribal folk dances of India, which offers immense vibrancy and cheerfulness. This dance is supposed to be a replica of the folk dance of Madhya Pradesh.
Santhal dance is generally performed by both the men and women of the Santhali tribe. It often covers issues related to gender and land rights.
While performing, the male Santhali dancers are dressed up in Dhoti and make use accessories, like turban, tree leaves, flowers and bushes, during the dance.
The dance is basically performed on special occasions. During the spring festival, it is performed to the glory of nature. Santhali dance is accompanied with folk music instruments like flutes, pipes, drums and cymbals.
Batik painting is an extremely beautiful and an ancient art-form. Batik paintings represent a unique form of art involving various figures and patterns drawn on pieces of fabrics. These paintings are believed to have originated in Indonesia wherein the original word referred to the dots on clothes.
Batik represents the wax-resist dye technique, used in textiles. This art is believed to be more than one thousand years old. Batik art work is widely practised in regions like Java (Indonesia) and India.
India is known for its rich tradition in Batik paintings and truly exquisite works of Batik art continue to be procured from different regions of India.
Batik artists make use of dyes as color. This is an integral part of the Batik art work. A Batik artist should have a good sense of the colors and patterns. For creating an attractive piece of Batik painting, the batik artist works with more emphasis on color, wherein multiple layers of wax and dye is applied to the fabric.
The characteristic designs of batik are observed due to the fine cracks appearing in the wax, which ensures that the small amounts of the dye, actually seeps in.
The common batik fabrics which are used for excellent batik prints are poplin, voiles, cambric, and pure silk. Natural colors that are derived from barks of trees, flower, leaves, and minerals are also used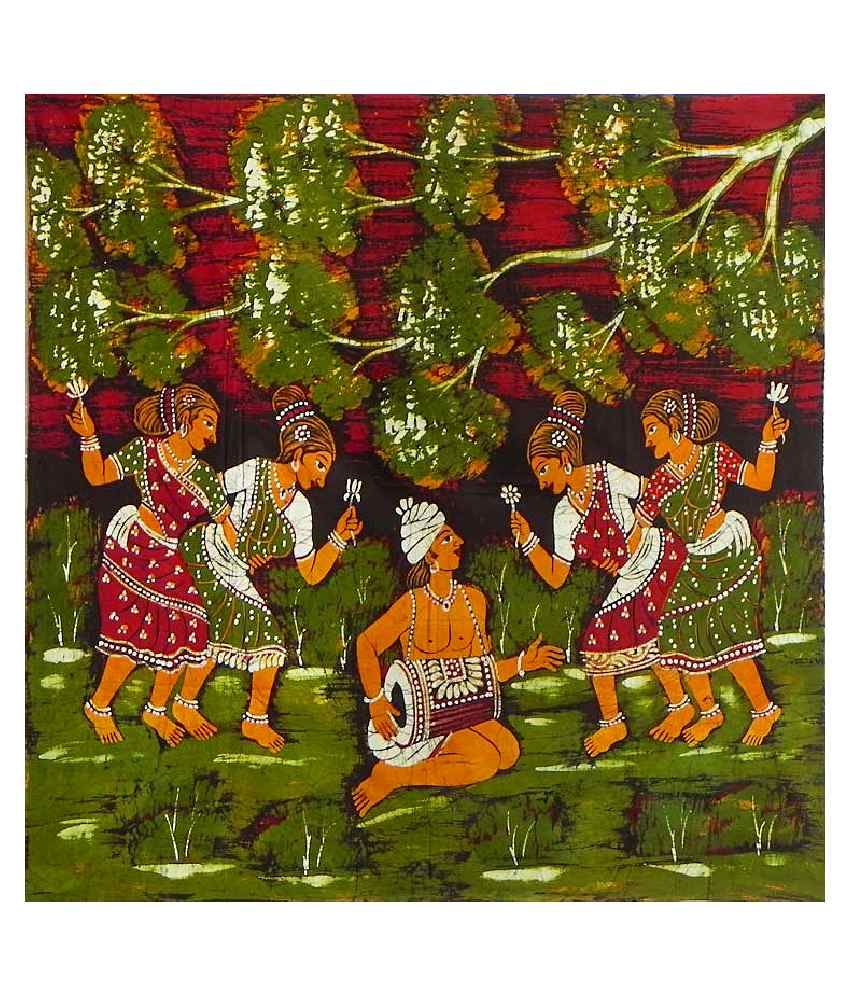 Batik wall hangings are considered a hot favourite with the art lovers. Traditionally, the Batik paintings are made of dark brown, indigo and white colors, representing the three major Hindu Gods i.e. Brahma, Vishnu and Shiva.
Batik printed Saris, Kurtis and wrappers are some of the most preferred choices among the fashion loving people. Indian cotton and dyes are considered very popular for use in Batik.
As already mention, Batik art is of Indonesian origin. But the art-form has been beautifully adopted in India down the centuries.
Until recently Batik prints in India were used only for making dresses and tailored garments, but modern Batik is applied in numerous items in India, such as murals, wall hangings, paintings, household linen, and scarves, with livelier and brighter patterns.