ॐ श्री गुरुभ्यो नमः ॐ श्री शिवानन्दाय नमः ॐ श्री चिदानन्दाय नमः ॐ श्री दुर्गायै नमः
Source of all Images in this Blog-post : Google Images : 'Google Image Search' will reveal the multiple sources of every single image shared in this Blog. For more details, kindly see 'Disclaimer'
Delhi Crafts Council's Covid-19 Atisans Help Fund
Phad painting or Phad is a style religious scroll painting and folk painting, practiced in Rajasthan state of India. This style of painting is traditionally done on a long piece of cloth or canvas, known as phad. The narratives of the folk deities of Rajasthan, mostly of Pabuji and Devnarayan are depicted on the phads.
The Bhopas, the priest-singers traditionally carry the painted phads along with them and use these as the mobile temples of the folk deities, who are worshipped by the Rebari community of the region. The phads of Pabuji are normally about 15 feet in length, while the phads of Devnarayan are normally about 30 feet long. Traditionally the phads are painted with vegetable colors.
The Joshi families of Bhilwara, Shahpura in Bhilwara district of Rajasthan are widely known as the traditional artists of this folk art-form for the last two centuries. Presently, Shree Lal Joshi, Nand Kishor Joshi, Pradip Mukherjee, Prakash Joshi , Ghanshyam Joshi and Shanti Lal Joshiare the most noted artists of the phad painting, who are known for their innovations and creativity.
Traditional examples of this art are Devnarayan Ki Phad and Pabuji Ki Phad. This style was revolutionized by Shree Lal Joshi and Pradip Mukherjee about forty years ago. Mukherjee's paintings are based on the stories of Ramcharitmanas, Gita Govinda, Kumārasambhava, Bhagavad Gita and Hanuman Chalisa.
The art of Phad painting was exclusively practiced by the Joshi community. However, in 1960, Shree Lal Joshi opened a school called 'Joshi Kala Kendra' for everyone to learn this art style. Presently, the school is called 'Chitrashala'.
*****
About Phad Paintings of Rajasthan :
Phad Paintings are a folk painting style from Rajasthan, India. These paintings were and still are a part of an elaborate ritualistic song and dance performance by folk balladeers that travel from village to village performing folk epics. The paintings provide the backdrop against which the songs, dances and narrations are used to create an evening of magic and entertainment usually in the centre of the village.
Each painting depicts a different episode and they are opened or unrolled only after sundown, in conjunction with an all night performance. This is possibly why these paintings are called Phad which means folds in local dialect.
Phad paintings are made on cloth or walls and most popularly depict the story of the local hero-gods – Pabuji & Devnarayanji. A series of these paintings represent a folk epic narrative through a very specific style of representation filled with figures and pictorial incidents.
All Phad paintings have certain common features. Every available inch of the canvas is crowded with figures. Another similarity is flat construction of the pictorial space. While the figures are harmoniously distributed all over the area, the scale of figure depends on the social status of the character they represent and the roles they play in the story.
Another interesting feature is that the figures in the paintings always face each other instead of the viewer. These paintings in their traditional form are very wide to accommodate the numerous episodes of the complex stories.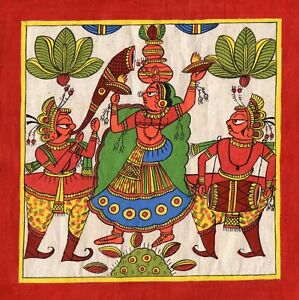 Some Phad painters are also experimenting with the 'collage' form for Phad paintings where while remaining true to the basic principles of the art form they combine various aspects of the art form to create a visually appealing modern painting. Phad sketches made with a single stroke of the pen while following the Phad form are also gaining popularity.
History of Phad Paintings :
Phad scrolls date back approximately to thousand hundred years. It is believed to have been first commissioned by Chochu Bhat, a devotee of Lord Devnarayana and chronological mentor of Devnarayan's clan.
Devnarayan was a medieval hero venerated as a folk-deity. He is worshipped as an incarnation of the Hindu god Vishnu. According to the legend, he was incarnated in year of 968 ( 911 AD) of Vikram Era (Hindu Calendar) as the son of Gurjar warrior Sawai Bhoj Bagaravat and his wife Sadu Maata Gurjari.
Pabuji is also worshipped as a folk-deity. He lived in 14th century in a remote village known as Kolu, near Jodhpur, in Rajasthan. The Phad represents his divine character as an incarnation of Laxmana (brother of the Rama of the Ramayana Hindu epic story)
The professional Phads painters called Chitera and are known by the clan name 'Joshi' of the Chipa caste. Joshi is derive from "JYOTSHI" Brahmin Horoscope/Calendar predictor. Earlier Joshi Phad artists were engaged in horoscope/Calendar printing for "Jyotshi" or "Joshi" Brahmins but later they adopted "Jyotshi" profession and "Joshi" as a surname.
In 10th century Chochu Bhat commissioned Joshi Phad Painter to make Phad painting on Devnarayan's whole life. After seeing that artwork, Devnarayan privileged "Joshi" caste to make Phad paintings and since then "Joshi" are doing Phad painting.
Joshis consider themselves belong from PUR, near Bhilwara city in Rajasthan and in 16th century they migrated to Shahpura. At the end of 19th century some Phad artists, moved from Shahpura to Bhilwara and they established a new seat for Phad Artists.
Shree Lal Joshi, Pradeep Mukherjee and Nand Kishor Joshi, Shanti Lal Joshi are the most noted artists of the Phad painting, who are known for their innovations and creativity. Prakash Joshi & Mukut Joshi are successfully following their lineage.
Since Phad paintings are traditionally story based paintings and legends of Devnarayan and Pabuji are chiefly painted but other than these two folk deities stories of Lord Krishna, Lord Rama, Lord Buddha, Hanuman, Goddess Kali, Lord Shiva, Lord Ganesha are also painted. Life Stories of Historical & Mythological characters are also painted. Sometimes Love stories, Erotica, Philosophical, Psychological, Social & Contemporary subjects are even painted. Here are some of them :
Story of Pabuji
Story of Devnarayan
Story of Narikunjar (Nine Women elephant)
Story of Panchtatva ka Ghoda (Five men Horse)
Story of Dhola-Maaru
Story of Gan-gaur
Story of Hadi Rani
Story of Haldi Ghati
Story of Lord Krishna
Story of Lord Rama & Seeta
Story of Prithviraj Chauhan
Story of Rani Padmini
Delhi Crafts Council's Covid-19 Atisans Help Fund