ॐ श्री गुरुभ्यो नमः ॐ श्री शिवानन्दाय नमः ॐ श्री चिदानन्दाय नमः
Source of all Images in this Blog-post : Google Images : 'Google Image Search' will reveal the multiple sources of every single image shared in this Blog. For more details, kindly see 'Disclaimer'
Pichhwai paintings are large devotional Hindu painted pictures, normally on cloth, which portray Hindu God Krishna. They are mainly made for hanging in Hindu temples of the Pushtimarg devotional tradition, especially in the Shrinathji Temple in Nathdwara, Rajasthan, built around 1672.
These paintings are hung behind the idol of Shrinathji, a local form of Krishna and the centre of Pushtimarg worship, for depicting Krishna's Leelas ( Divine Sporting ). The purpose of Pichhwais, other than their artistic appeal, is to narrate the tales of Krishna to the illiterate masses. Temples have sets with different images, which are changed according to the Hindu calendar of festivals celebrating the deity.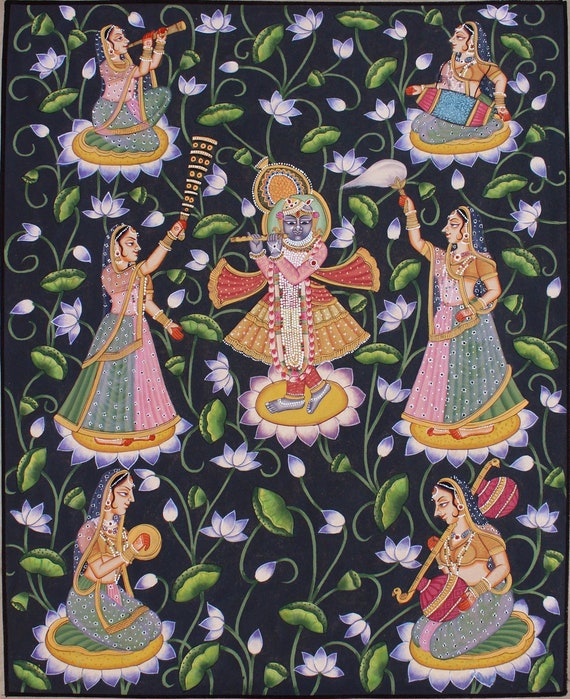 The word Pichhwai stands for hanging at the back. Nathdwara painting covers these and similar works in other genres, especially Indian miniature paintings. Like the Pushtimarg tradition, the Nathdwara paintings originated in the Deccan region of India, but are now mainly associated with Western India.
Pichhwai paintings have become the main export items of Nathdwara region, and are in much demand among foreign visitors. The artists live mostly in 'Chitron Ki Gali' (Street of paintings) and 'Chitrakaron Ka Mohallah' (colony of painters), and form a close knit community with constant interaction. Often a Pichhwai painting is a group effort, where several skillful painters work together under the supervision of a master artist.